After months of speculation, we're one step closer to the Box IPO, as the company filed with the U.S. Securities and Exchange Commission Monday.
Box Inc. announced that it plans to raise up to $250 million in an initial public offering that could take place as soon as April.
Box caters mostly to businesses and provides clients with file sharing and cloud content management services. Secure file sharing, project collaboration tools, and encryption methods are among the company's other services.
The company's business model is to provide customers with up to 50 gigabytes of free storage and then charge monthly fees of $5, $15, and $35 for premium services and additional storage.
The company has more than 25 million registered users and works with more than 34,000 companies. Some of Box's biggest customers are Procter & Gamble Co. (NYSE: PG), Pandora Media Inc. (NYSE: P), and the San Francisco Giants of Major League Baseball.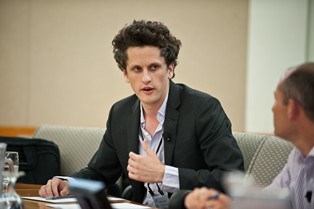 "We are moving toward an information economy, where every worker will be an information worker, and every business, regardless of industry, will be in the information business," Box Chief Executive Officer and Founder Aaron Levie said. "Our role at Box is to help enable this transition for every organization in the world."
Before deciding to buy into Box Inc., there are some important financial figures for investors to analyze...
Profitability an Issue Ahead of Box IPO
When Box made its IPO announcement, company officials admitted that the tech startup currently isn't profitable - and probably won't be profitable for some time.
"We do not expect to be profitable for the foreseeable future," the company's prospectus said.
In the filing, Box noted that losses had actually widened in the last year from $112.6 million to $168.8 million. The company attributed the widening loss margin to expanded marketing and sales budgets. Those budgets increased by 73% in the last year.
While those increased budgets affected Box's bottom line, they did boost revenue figures.
In the year ending Jan. 31, 2013, the company reported revenue of $124.2 million, which was an increase of 111% from the previous year.
According to a Wall Street Journal report, almost 75% of the companies that have gone public in the United States in 2014 were unprofitable at the time of their IPO. So it's common for companies with profit losses to file for IPOs.
However, achieving a profitable bottom line won't be the only challenge facing Box ahead of its IPO...
Strong Competition a Challenge for Box IPO
One of Box's biggest competitors, DropBox, has also been rumored to be planning an initial public offering in 2014. The company focuses more on individual customers than Box, but they do share many of the same services and a very similar business model.
DropBox has more than 200 million users and reported revenue in 2013 of more than $200 million. In January, DropBox completed a $250 million round of funding that placed its value near $10 billion.
Those figures dwarf Box's, and a potential DropBox IPO could be a leading factor in why Box is pushing ahead with its IPO so quickly. Rather than come to market after its largest competitor, Box will try to capture the excitement of investors first. Time will tell if they buy in or if they wait on the bigger DropBox IPO.
DropBox isn't Box's only competitor though. Google Inc. (Nasdaq: GOOG) offers the "Google Drive" service, which allows users to store up to 15 GB for free.
Box may have an established user base, but the market is becoming crowded.
It's clear that Box's dedication to strengthening its client base has led to increased revenue, but at some point the company will need to turn a profit. The company's tone in the prospectus suggests it will remain content to operate at a net loss as long as revenue increases.
But investors will have to ask themselves how long they are willing to wait for Box to be profitable - especially in the face of increasing competition.
Investors looking for a company with solid financial footing to invest in will want to avoid the Box IPO.
Is Box the type of IPO that you would be interested in investing in? Let us know on Twitter @moneymorning using #IPOs.
When it comes to Federal Reserve statements, there is a huge economic indicator that everyone misses...
Related Articles:
Tags:
Box Inc. IPO
,
Box IPO
,
Box IPO Date
,
Box IPO price
,
Dropbox IPO
,
Initial Public Offering
,
IPO Calendar 2014
,
ipo market
,
IPO market 2014
,
IPOs
,
IPOs to watch
,
IPOs to watch 2014
,
upcoming ipos
The post Box IPO: Factors to Consider Before Investing appeared first on Money Morning - Only the News You Can Profit From.