No official IPO date has been set for Alibaba Group Holding Ltd., but analysts predict the company could file for its U.S. IPO as soon as the end of April.
While investors wait for the official date, the Chinese e-commerce firm has been on a spending spree. In the last year Alibaba has spent nearly $3.5 billion on acquisitions covering various industries.
And this week saw another billion-dollar purchase...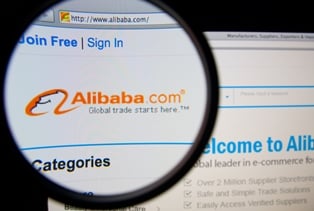 Yesterday, Alibaba Chairman Jack Ma announced that his investment firm spent $1.1 billion on a 20% stake in the Chinese cable-TV company Wasu Media Holding Co. Shares of Wasu, which trade on the Shenzhen Stock Exchange, jumped more than 10% following the news.
The Chinese government requires Internet-television companies to acquire licenses before they can broadcast in the country, and Wasu was one of the first companies to do so. Wasu had already partnered with Alibaba last July to develop set-top boxes.
Wasu announced in its statement that it currently has more than 20 million subscribers.
"Alibaba and Wasu Group are optimistic about the future development of China's media industry and will support each other in areas such as original content development, video communication, games, music, education, cloud computing, big data, as well as other areas of future exploration and investment in the media industry," Alibaba officials said.
The partnership brings Alibaba further into the Chinese media market. Last month, Alibaba spent more than $800 million to acquire a 60% stake in ChinaVision Media Group Ltd. That acquisition, like the Wasu acquisition, bolsters the entertainment options Alibaba offers its customers.
The Wasu deal is another attempt by Alibaba to diversify its portfolio of products and services ahead of its upcoming IPO date. It's also a shot at Alibaba's biggest competitors...
Alibaba's Acquisition Strategy Heats Up Before IPO Date
Alibaba and rival Tencent Holdings Ltd. have both dug deep into their wallets to outdo each other in 2014...
Last month, Tencent spent $180 million for a 15% stake in an online real estate company, $500 million on a 28% stake in game developer CJ Games, and $215 million for a 15% stake in the e-commerce firm JD.com - just to name a few.
With this week's purchase of Wasu, Alibaba has now spent more than $4.5 billion in the year leading up to its IPO date. Just last week, Alibaba spent $700 million for a 25% stake in a department store retailer, whose e-commerce business it plans to energize.
Those acquisitions are one of the driving forces behind Alibaba's inflating IPO price.
In February, a Reuters poll of eight analysts concluded that that Alibaba could reach a valuation of $140 billion. At the time, projections for the Alibaba IPO saw the company raising as much as $15 billion in the deal.
Several billion dollars in acquisitions later, analysts are now wondering whether Alibaba can top the $16 billion that Facebook raised in its 2012 IPO. If Alibaba can top that number, it will be the largest Internet IPO in U.S. history.
In the meantime, investors can expect Alibaba's and Chairman Jack Ma's acquisition trail to continue on as the e-commerce firm's IPO date nears.
Will you be investing in the Alibaba IPO? Join the conversation on Twitter @moneymorning using #Alibaba.
Sure, change can be disrupting - but it can also be hugely profitable, like in this controversial market where the number of double-digit profit opportunities is about to soar...
Tags:
Alibaba acquisition
,
Alibaba going public
,
Alibaba IPO
,
Alibaba market
,
alibaba stock
,
Best IPOs 2014
,
hot ipos
,
Hot IPOs 2014
,
investing in ipos
,
IPO calendar
,
IPO Calendar 2014
,
IPO Date
,
IPO Dates
,
ipo dow jones
,
IPO investing
,
IPO List
,
ipo market
,
IPO market 2014
,
IPO news
,
IPO Stock Options
,
IPOs
,
ipos 2014
,
List of IPOs
,
nasdaq IPO
,
nasdaq ipo filings
,
new ipo nasdaq
,
new tech ipos
,
pre ipo stock options
,
social media IPOs
,
upcoming ipos
,
upcoming ipos 2014
,
what is an ipo stock
The post As IPO Date Approaches, Alibaba Pushes Further into Media Market appeared first on Money Morning - Only the News You Can Profit From.