Investors anxiously awaiting the Alibaba IPO received an important update yesterday (Tuesday): The Chinese e-commerce firm more than doubled its profits in the fourth quarter of 2013.
The glimpse at Alibaba's financials came courtesy of Yahoo! Inc.'s (Nasdaq: YHOO) earnings report, because Yahoo owns a 24% stake in Alibaba. Yahoo reported earnings after the close yesterday.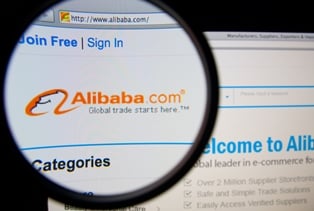 According to Yahoo, Alibaba's revenue increased 66% in Q4 (the most recent quarter available) from the previous year. In Q3, Alibaba increased revenue by 51%.
For Alibaba, revenue reached $3.06 billion in Q4, while profits of $1.35 billion were more than double what the company had reported in Q4 of 2012.
YHOO stock jumped 9% in after-hours trading yesterday, despite the fact that its own earnings report was lackluster. YHOO beat earnings by a penny, but posted stagnant revenue. The Alibaba news, however, helped push YHOO stock higher.
The jump in revenue is partially attributed to Alibaba's massive "Singles' Day" sale, which took place on Nov. 11. According to the company, more than $5.7 billion exchanged hands over a 24-hour period that day, as single men and women showered themselves and each other with gifts on the holiday.
Yesterday's Yahoo report stoked the anticipation of investors, and the timing of the news couldn't be any better for Alibaba...
Alibaba's IPO Strategy Expands the Brand
According to a Reuters report, sources close to the company have stated that the e-commerce firm will be filing the prospectus for its highly anticipated U.S. IPO on Monday, April 21.
In February, analysts polled by Reutersestimated that the Alibaba IPO could raise up to $15 billion. But following a string of acquisitions and yesterday's strong financials, some think the deal could rival the Facebook Inc. (Nasdaq: FB) IPO of 2012, which raised $16 billion and was the largest Internet IPO in U.S. history.
The profits figure has certainly helped push that total higher, but it isn't the only factor behind Alibaba's IPO funding...
According to The Wall Street Journal, when Alibaba's Q3 revenue growth slowed to 51%, some analysts wondered if the company was becoming too big to navigate the e-commerce industry. As profits double and revenue growth is on the upswing, those concerns appear premature.
If anything, Alibaba's size has allowed the company to remain innovative ahead of its IPO.
In the past year, Alibaba has spent more than $4.5 billion in acquisitions - and many of which have been outside of the e-commerce industry. Just last week, Alibaba purchased a 20% stake in the Chinese cable TV company Wasu Media Holding Co. for $1.1 billion.
Other acquisitions have brought Alibaba into brick-and-mortal retail, social media, web browsing, and logistics, to name a few industries.
While it's moving into numerous industries and expanding its brand internationally, the Chinese e-commerce industry is still at the heart of Alibaba's IPO.
China is currently the world's second-largest e-commerce market and was a $210 billion industry in 2012 according to McKinsey & Co. It's estimated that by 2020 that total could reach $420 billion.    
Alibaba is China's largest e-commerce firm. In 2013, the transaction volume from Alibaba's network of sites was one-third larger than Amazon.com Inc. (Nasdaq: AMZN) and eBay Inc. (Nasdaq: EBAY) combined.
The size of the e-commerce industry had analysts projecting a valuation near $140 million for Alibaba in early 2014. But the string of acquisitions and yesterday's financials have pushed that total higher.
Bernstein Research Analysts Carlos Kirjner told The Wall Street Journal that Alibaba's value could be "well in excess of $150 billion" when it goes public.
More financial information will be released to the public as soon as Monday, when Alibaba officially files for its IPO.
Will you be investing in Alibaba when it makes its initial public offering? Join the conversation on Twitter @moneymorning using #Alibaba.
A good CEO can create a very strong company, but a great CEO can create an empire. And the five CEOs we've pinpointed here have created empires that can make investors rich...
Related Articles:
Tags:
(
Nasdaq: YHOO
),
Alibaba
,
Alibaba IPO
,
alibaba ipo 2014
,
Alibaba IPO date
,
alibaba stock
,
IPO calendar
,
IPO Calendar 2014
,
Yahoo earnings
,
yahoo stock
,
YHOO earnings
,
YHOO Stock
The post Alibaba IPO: Profits Soar as Investors Await Filing appeared first on Money Morning - Only the News You Can Profit From.