The Weibo Corp. (Nasdaq: WB) IPO price was a disappointment to investors today (Thursday) when the company offered shares at the low end of its proposed $17 to $19 range.
But that didn't stop the stock from soaring more than 44% today in its first trading day...
Weibo is a micro-blogging site in China that operates similarly to Twitter Inc. (NYSE: TWTR). The social media site allows users to send short, public messages, and lets followers comment and repost. The site was launched in 2009 and boasted 144 million monthly active users as of March 2014.
The company raised $286 million in its IPO by selling 16.8 million shares at $17 each. That gives Weibo a valuation of approximately $3.4 billion.
The decision to set a lower IPO price paid off early for WB stock, as the stock touched a high of $24.48 this afternoon.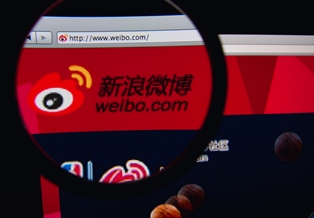 A Reuters report cited an unnamed banker familiar with the deal who said, "We wanted to have a deal that works from a market perspective."
Weibo had previously planned on raising $360 million by offering 20 million shares. The company decided to sell fewer shares at a lower price following the recent sell-off in the tech sector.
The Nasdaq Composite had dropped more than 4% in the last month. Many technology momentum stocks have fared much worse, however. In the last month, shares of Google Inc. (Nasdaq: GOOG) have dropped 10%, shares of Tesla Motors Inc. (Nasdaq: TSLA) have slid 14%, and shares of Netflix Inc. (Nasdaq: NFLX) have dipped 19%.
Weibo's parent company Sina Corp. (Nasdaq: SINA) has been hit hard by the recent tech sell-off, down 17% in the last month. However, today's IPO sent SINA shares up 9% in afternoon trading.
By pricing shares lower, the company hoped to bring in investors who may have feared the stock was overpriced. According to Reuters, Weibo also offered fewer shares than initially planned in an attempt to lower dilution.
While the company raised less money than it had initially planned, the 44% pop in the stock's first few hours of trading suggests the strategy paid off.
So with the Weibo IPO price concerns behind us, what's next for the stock?
For investors contemplating buying WB stock now, here are the most important factors to consider...
Beware Investing in Post-IPO Weibo
In 2013, Weibo posted revenue of $188.3 million, which was almost triple what the company reported in 2012. At the same time, net losses were smaller in 2013 at $38.1 million. The company had a net loss of $102.5 million in 2012.
More recently, the company reported that its 2014 Q1 profits were up 161% to $67.5 million.
While revenue has steadily increased, there are still concerns regarding the state of microblogging in China.
In September 2013, China instituted the "anti-rumor campaign," which carries a maximum penalty of three years imprisonment for anyone who knowingly shares false information online. Since the new censorship went into effect, postings on Weibo have dropped by 70%.
Additionally, while Weibo reported monthly active users of 144 million, the Chinese microblogging industry as a whole fell from 308.6 million users in 2012 to 280.2 million users in 2013.
That, combined with the recent performance of tech stocks, makes today's gain for WB shares somewhat surprising. At first glance, the tightly controlled nature of China's media would seem to have a negative impact on revenue, and stock performance.
But, Weibo is closely connected to the Chinese e-commerce firm Alibaba, which is also preparing for its own massive IPO. According to The Wall Street Journal, Alibaba owns about a 30% stake in Weibo, and the Weibo IPO is serving as a way for investors to get a piece of Alibaba before it goes public.
Alibaba is preparing for an IPO that could reach $15 billion or more, making it the largest IPO since Facebook Inc.'s (Nasdaq: FB) 2012 public offering.
Recently, stocks associated with Alibaba have enjoyed their affiliation with the Chinese e-commerce firm. Earlier this week, Yahoo! Inc. (Nasdaq: YHOO) reported lackluster earnings, but still enjoyed a 9% jump on strong financial info from Alibaba. Yahoo owns a 24% stake in Alibaba.
Likewise, the Chinese Internet exchange-traded fund (ETF) KranShares Trust (Nasdaq: KWEB) was lifted 2% Wednesday following the Alibaba financial news. The ETF holds numerous big-name Chinese Internet companies in its portfolio, but does not yet own Alibaba shares. The mere fact that it might own Alibaba following its IPO lifted the stock.
Weibo may continue to benefit from its relationship with Alibaba in the short term, but for now it's a risky investment, particularly at such inflated first-day levels. The unsettled nature of microblogging in China and the extremely volatile tech sector make this a dangerous play.
"That's a [stock] that is a complete wildcard," Money Morning's Chief Investment Strategist Keith Fitz-Gerald said on CNBC World last night. "It has a very complicated ownership structure. The monetization metrics that normally you'd apply in the United States markets don't apply in China because it's different technologically speaking. The way [the media] is used is very different, and the mobile appreciation by the consumers is very different."
Are you investing in the Weibo IPO or any other upcoming IPOs? Tell us on Twitter @moneymorning using #IPOs and #Weibo.
The fact is, Obamacare is at least partly responsible for some of the biotech sector's recent sell-off. But these stocks will prosper regardless of Obamacare's fate...
Related Articles:
Tags:
Best IPOs 2014
,
hot ipos
,
investing in ipos
,
IPO calendar
,
IPO Calendar 2014
,
IPO Date
,
IPO Dates
,
ipo dow jones
,
IPO investing
,
IPO List
,
ipo market
,
IPO market 2014
,
IPO news
,
IPO Stock Options
,
IPOs
,
ipos 2014
,
List of IPOs
,
nasdaq IPO
,
nasdaq ipo filings
,
Nasdaq: WB
,
new ipo nasdaq
,
new tech ipos
,
pre ipo stock options
,
should I buy Weibo stock
,
social media IPOs
,
upcoming ipos
,
WB stock
,
Weibo
,
Weibo IPO
,
Weibo IPO Date
,
Weibo stock
,
what is an ipo stock
,
what is Weibo
The post Low Weibo IPO Price Didn't Hurt Stock, but Can This Rise Continue? appeared first on Money Morning - Only the News You Can Profit From.