Gilead Sciences Inc. (Nasdaq: GILD) stock hit a 52-week high of $92.97 this morning (Thursday) after the company crushed earnings estimates last night. At that price, GILD stock has climbed 3% from yesterday's close.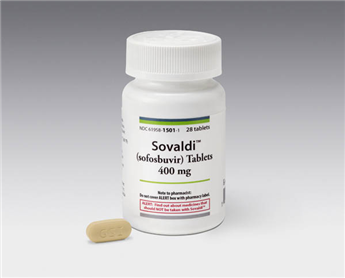 In yesterday's earnings report, GILD reported earnings per share (EPS) of $2.36, beating consensus estimates of $1.79 by 31.8%. Revenue was reported at $5.85 billion, which was 12% higher than what analysts expected.
Gilead also reported net income of $3.66 billion, which trounced the $772.6 million from the same period last year.
For Gilead, the biggest driving force continues to be its signature drug Sovaldi, which is used to treat hepatitis C. According to the company, Sovaldi effectively cures the disease in 90% of patients.
While the drug is effective, it has received scrutiny for its price. Gilead lists Sovaldi at about $1,000 per day, and the drug is typically taken in a 12-week course. Gilead's rebuttal is that other treatments, usually liver transplant, are much more costly. That procedure costs roughly $250,000.
GILEAD SCIENCES

NASDAQ: GILD

Jul 24 11:52 AM

loading chart...

Price: 90.91 | Ch: 0.57 (0.6%)
The contribution of Sovaldi to Gilead's earnings was apparent in yesterday's report, as GILD noted that Sovaldi sales totaled $3.48 billion. That destroyed estimates that had sales at about $1 billion.
That surge in revenue has led GILD to double its yearly revenue estimates from a previous range of $11.3 billion to $11.5 billion, to a new range of $21 billion to $23 billion.
Money Morning's Defense and Tech Specialist Michael Robinson has been high on GILD stock for some time, and yesterday's huge earnings beat comes as no surprise to Money Morning readers.
Why We're Bullish on GILD Stock Now
One reason Robinson has been recommending GILD stock is because of the effectiveness of Sovaldi, and the impact it can have on the hepatitis C market.
As he told readers last month:
"Sovaldi is extremely effective and is targeted at a very dangerous disease that is on the rise," Robinson said. "Left untreated, hepatitis C can cause serious liver damage, leading to cancer and death. More than 150 million people globally are infected with hepatitis C. And here in the United States, according to the advocacy group the Hepatitis Foundation International, about 3.2 million suffer from the chronic condition."
And while Sovaldi is a cash-cow for Gilead, it's not its only drug. GILD also develops treatments for HIV/AIDS, various cancers and heart/respiratory problems.
In fact, the company announced in yesterday's report that its new drug Zydelig had just received FDA approval for treatment of leukemia and lymphoma.
"During the first quarter, sales of its cardiovascular disease medicines increased 9% from the year-ago period to $234.5 million," Robinson said. "One of its HIV drugs increased by nearly 70%, while another soared 134%, for combined first-quarter sales of $466 million."
But revenue isn't the only financial figure that Robinson is keen on.
"Gilead also has a price/earnings-growth (PEG) ratio of just 0.48, which is less than half the 'fair price' ratio of 1," Robinson said. "The company also recently announced a $5 billion share buyback, which doesn't count the $2.9 billion remaining from an earlier buyback announcement."
"This is one of those rare big-cap stocks with the kind of growth ahead of it that you usually associate with small-cap companies," Robinson said. "With its great fundamentals and a growing global market, Gilead is one of the best biotech stocks to help you build your net worth for years to come."
GILD stock is up 22% in 2014, and 53% in the last 12 months. But that could be just the start for this hot biotech stock.
Share this story on Twitter @moneymorning and @KyleAndersonMM using #Gilead.
Next: Money Morning's Bioscience Investment Specialist Ernie Tremblay has found the secret to making money from bioscience's "scariest event." Learn how you can start profiting from this powerful catalyst today...
Related Articles:
Tags:
$GILD
,
biotech stocks
,
GILD earnings
,
GILD stock
,
Gilead earnings
,
Gilead stock
,
Hot Stocks
,
Nasdaq: GILD
,
Sovaldi revenue
,
Sovaldi sales
The post Gilead (Nasdaq: GILD) Stock Outlook Even Better After Crushing Earnings appeared first on Money Morning - Only the News You Can Profit From.