One of these biotech stocks to buy appeals to risk takers and the other to investors who favor a more conservative approach - and both offer plenty of upside potential...
If you had bought Biogen Idec Inc. (Nasdaq: BIIB) during the depths of this spring's biotech sell-off, you could have been sitting on peak gains of 28.3%.
If you'd picked up Celgene Corp. (Nasdaq: CELG) at the time, you'd be doing even better, with peak gains of 40.9%.
And if you had been really brave, you could have picked up shares of the company that - through a series of Washington political shenanigans - was the "cause" of the sell-off. And you'd be doing very well, indeed.
Since April 11, Gilead Sciences Inc. (Nasdaq: GILD) has scored peak gains of a whopping 74.2% - or more than 175% annualized gains.
Some investors don't want to risk it all during a sell-off by picking and choosing among stocks getting slammed - but they still do want to take advantage of the growth hot biotech stocks offer.
I understand.
So today I want to tell you about a conservative approach to investing.
However, though this investment is conservative, it still offers big money through biotech.
In fact, it's yielded annualized gains of more than 60% so far this year - and there's plenty of upside left to come...
Biotech Stocks to Buy: The Best Pick for Risk-Tolerant Investors
Investors who picked up shares of Gilead before they fully recovered have made 38.7% gains since I recommended GILD on June 19.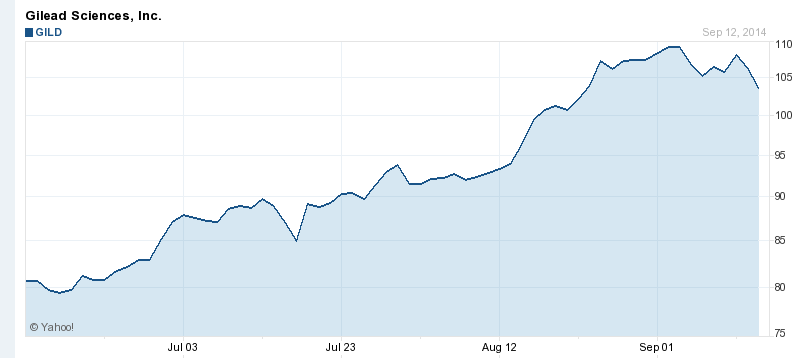 Not bad for a company that Washington politicians said was emblematic of everything wrong with drug companies just a few months ago.
Gilead, a Foster City, Calif.-based biotech that's been around since 1987, received approval in December for Sovaldi, its new hepatitis C treatment.
Sovaldi, I'm telling you now, will go down as one of the most successful drugs ever released.
Ordinarily, the release of an extremely promising drug would be enough to ignite a stock to new levels. And that was in the works until Washington politics and a classic Wall Street overreaction derailed Gilead's success.
Back in March, several influential U.S. House members criticized Sovaldi's $84,000 sticker price. And Gilead sold off, dropping from around $80 to less than $64 in less than a month.
And much of the biotech sector soon followed. The Nasdaq Biotechnology Index sank 22% in about six weeks, hurting everything from tiny startups to huge mutual funds.
At the time, I steadfastly believed that Gilead and the rest of the sector would quickly recover. In other words, biotech was brimming with new buying opportunities.
But again, you have to be a bit of a risk taker to pick stocks during such a tumultuous time.
With regard to Gilead, Wall Street feared that, as part of the 2014 midterm elections, Congress might put price restrictions on Sovaldi or otherwise go after the biotech sector.
But I quickly determined there was no way Congress would take action against Gilead or any other pharmaceutical firm based on the price of a new drug.
Here's why...
Simply put, the three House Democrats who kicked the whole thing off by criticizing Sovaldi's price tag never had the votes to get anything done.
Moreover, when you drill down and look at what happens when someone gets hepatitis C, Sovaldi's $84,000 price starts to sound like a bargain.
Hepatitis C affects some 3.2 million Americans and eventually leads to scarring of the liver and, ultimately, cirrhosis. It often takes many years after the original infection for symptoms to appear. And when they finally do, the patient is often already quite ill - this is why the disease is often called "the silent killer."
Because symptoms take so long to appear, many patients suffer liver failure before they realize what's wrong. A liver transplant costs some $250,000 - if you can find a healthy organ. And that cost doesn't take into account the drugs a patient has to take so his or her body doesn't reject the new liver.
Sovaldi, on the other hand, cures hepatitis C in 90% of all patients, negating the need for liver transplants or other treatments.
Therefore, the plunge in Gilead shares represented a terrific buying opportunity. And Sovaldi has turned out to be a massively successful drug.
Gilead's stock hit bottom on April 11, less than two weeks before Gilead reported breakout first-quarter earnings. During the period, Sovaldi had $2.3 billion in sales.
That's a record for a new drug and smashed analysts' forecasts by $1 billion. As impressive as that sounds, the best was yet to come.
The pill notched $3.5 billion in second-quarter sales, for a six-month total of $5.8 billion. Sovaldi's huge success led Gilead in late July to double its annual revenue guidance to between $21 and $23 billion.
With a market cap of $161 billion, Gilead trades at roughly $106 a share. But I believe it still has plenty of upside. Gilead has a forward price/earnings (P/E) ratio of 11.4, a discount of 32% from the Standard & Poor 500 Index's forward P/E of 16.7.
The stock also has an excellent price-to-earnings growth (PEG) ratio, a figure used to put a company's growth in context with its earnings multiple. Gilead has a PEG ratio of just 0.53, a 47% discount from the "fair value" ratio of 1.
I think the stock could easily reach $112 in the next few months and as much as $130 in the next year or so. On the high end, that would represent 22.6% growth from current prices - and a very pleasant 62.5% jump from where we first picked it up.
Biotech Stocks to Buy: The Conservative Choice with Plenty of Upside
While Gilead is an exciting stock, I realize more conservative investors may not feel comfortable investing in a company that recently came under political and Wall Street pressure.
That's why investors who are looking to grab biotech profits, but who do not want to put their money into individual stocks that may be risky, ought to take a look at First Trust NYSE Arca Biotechnology Index Fund (NYSE Arca: FBT).
Priced at about $92.50, the First Trust Biotech Index is an exchange-traded fund (ETF) that gives us excellent exposure to biotech stocks in a very focused manner. The First Trust Fund holds just 20 equities in its portfolio, each roughly equal in size, at around 5%.
This is an ETF that has recovered nicely from the spring biotech sell-off. FBT bottomed out last April 14 with a closing price of $70.19 and has gained nearly 32% since that time.
And it isn't all just about buying this ETF on the rebound. Over the past year it has gained 40%, nearly double the S&P 500's profits over the same period.
The stocks in the First Trust fund have a median market cap of about $8.4 billion. That's large enough to offer stability but small enough to deliver plenty of upside. Besides Gilead, key holdings include the following:
Alexion Pharmaceuticals Inc.

(Nasdaq: ALXN) is focused on ultra-rare diseases. With a market cap of $33 billion, Alexion has 39% operating margins, has a return on equity (ROE) of 16%, and trades at $165 a share.

Celgene Corp.

(Nasdaq: CELG) has several cancer drugs on the market. With a market cap of $75 billion, Celgene has operating margins of 29%, an ROE of 28.6%, and trades at $94 a share.

Regeneron Pharmaceuticals Inc.

(Nasdaq: REGN) is a firm whose main product combats blindness in older people. With a $35 billion market cap, the firm has 34% operating margins, has an ROE of 20%, and trades at $348 a share.
Thus, with Gilead and the First Trust Biotech Fund, we have two very different courses of action. But both are primed for more profits.
By its nature, Gilead will appeal to growth investors who are seeking higher returns and willing to take on risk.
Gilead is also particularly attractive to ETF managers, and you'll find it in several other Strategic Tech Investor holdings.
It's in one of our "Tech Wealth Building Blocks" - the T. Rowe Price Health Sciences Fund (MUTF: PRHSX). And it's in "The One Tech Investment to Buy Now and Never Sell" that I told you about just two weeks ago: the Fidelity Nasdaq Composite Index Tracking Stock (Nasdaq: ONEQ).
For its part, First Trust is a great long-term holding for the more conservative portion of your portfolio.
Both choices offer excellent returns that are way ahead of the overall market.
More from Michael Robinson: A new generation of advanced satellites is set to hand investors outsize profits, save for one problem: Outer space has become a giant floating junkyard of debris, any piece of which could destroy or at least seriously damage a satellite. Here's how to profit by investing in the "junkyard dog" of outer space.
Tags:
$GILD
,
best stocks to buy
,
biotech ETF
,
biotech investing
,
biotech stocks
,
biotech stocks to buy
,
FBT
,
First Trust Biotechnology Index
,
GILD stock
,
Gilead stock
,
Stocks to Buy
The post Two of the Best Biotech Stocks to Buy Now appeared first on Money Morning - Only the News You Can Profit From.