Richard Tyler joined a select group of entrepreneurs from around the world, along with international best-selling author and keynote speaker Mark Victor Hansen (Chicken Soup for the Soul), to co-write the book titled, Boom!: The World's Leading Entrepreneurs and Professionals Reveal Their Secrets to Improving Your Health, Wealth and Lifestyle Through Their Explosive Techniques. The book was published by CelebrityPress™ and released on May 21, 2015.
On the day of release, Boom! reached best-seller status in two Amazon categories – reaching as high as #3 in the category "Direct Marketing," as well as #12 in "Marketing for Small Business." Richard Tyler contributed a chapter titled "Sales Excellence- Seven Steps to Achieving Extraordinary Success in Sales." Furthermore, Richard's chapter earned Editors Choice Award from CelebrityPress®.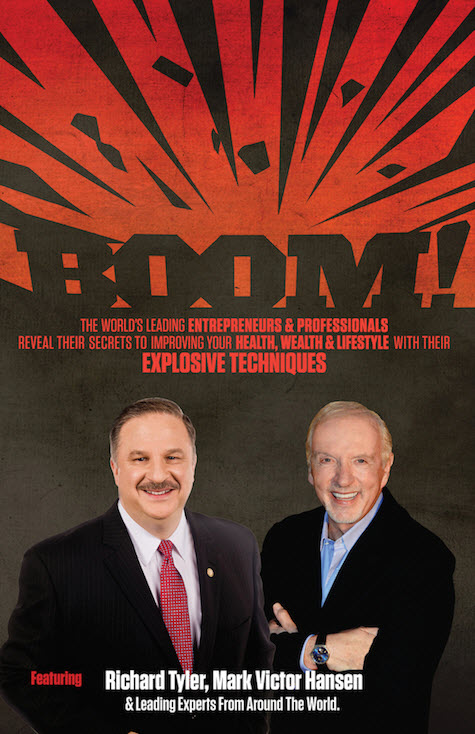 CelebrityPress®. describes the book:
BOOM! Everyone searches for success. While our ideas of success differ, a typical entrepreneur will define success in terms of accomplishing worthy goals-often accompanied by an improvement in their financial and social position.
It is recognized in the business community that success is a direct result of passionate commitment, organized planning, constructive action and perseverance. However, by definition, the word BOOM suggests the creation of something BIG, immediate and successful! In addition, BOOM may also mean "increase" in economic terms, another typical measure of success.
So what are your plans? If you wish to mimic the actions that successful people like the Celebrity Experts® in this book take to make progress towards their goals, and also take advantage of their experiences, here is a good opportunity to understand their mindset – which often covers the "what to do" as well as the "what not to do." As you know, at times the latter is more important than the former.
If you wish to create something BIG, immediate and successful, as well as to enjoy the "increase" you can create, you will find many pointers in this book. These Celebrity Experts® share their experiences and teachings thoughtfully. They can guide you "to the finish line" much faster than if you have to start your journey to success on your own.
After such a successful release, Richard Tyler will be recognized by The National Academy of Best-Selling Authors™, an organization that honors authors from many of the leading independent best-seller lists.
Richard Tyler, "America's Corporate and Entrepreneurial Business Expert."™ is recognized as the world's top sales trainer.
Richard's two immensely popular training programs, "Commitment to Excellence"® Sales Immersion™ Program" and "Commitment to Excellence"® Leadership Mastery™ Program", are influencing businesspeople from all rungs of the corporate ladder.
Richard Tyler's philosophies have been featured in Forbes magazine, Entrepreneur magazine, The Business Journals, Sales and Marketing Management magazine, Wealth & Finance International magazine, Acquisition International magazine, the Houston Chronicle as well as in hundreds of articles and interviews. Richard has been seen on FOX, CBS, NBC and ABC television affiliates, CNBC.com, Morningstar.com, BostonGlobe.com, Moneywatch.com, MiamiHerald.com, Wall Street Journal's MarketWatch.com, YahooFinance.com and many others.
About Richard Tyler International, Inc.®
Richard Tyler International, Inc.® has been recognized as one of the top training and consulting firms in the world. Among it's numerous honors are "Top Sales Training and Management Consulting Firm in the United States", the "Best For Corporate Growth Strategy – USA, the "Award for Excellence in Sales Training – USA", Management Consultancy of the Year and the "Best of Business Award" Management Consultancy.
As Richard says, "Remember, your success tomorrow is in direct proportion to your 'Commitment to Excellence®' today.™".
Richard Tyler Hits Amazon Best-Seller List With "Boom!" is a post from: PRUnderground