Two decades ago, founders at Med-Certification.com took the first steps towards what would later help make medical billing coding learning made easy. For years, they provided support services for doctors and hospitals. Then, it clicked, and the founders set off to teach others how to do the functions that were required in doctors' offices and hospitals, and it would be done online.
Founder of Med-Certification.com, Jari Davis, comments. "Looking back at early ventures, it is interesting to see where online education went. We started in 1994 with one of the first online schools. People didn't believe you could get a 'quality education' without a classroom or a teacher." She continues. "They were also suspicious because the training was 'so cheap.' So we had to educate our potential buyers. Though it was an uphill climb, we convinced a lot of open-minded learners to try the learn-at-home experience. And, as they say, the rest is history."
Some studies suggest that online medical training is just as or more effective than face-to-face education. Here are some of the reasons it has worked so well:
The sheer variety of online classes is staggering, from a real estate class to a doctorate, it's all available
More affordable since the overhead is very low compared to brick and mortar
No commuting, babysitters, textbooks, or even clothes
Studying at home is way more comfortable, breaks are simple, and hours are flexible
Ability to move at one's own speed rather than a median for many
Learn and still be able to maintain a job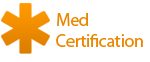 And so, Med-Certification continues to enhance their online medical billing and coding programs, law courses, etc. to create and expand learning opportunities for new career paths, staying in the vanguard of opportunity at affordable prices.
Healthcare Jobs Outlook:
According to the Bureau of Labor Statistics, healthcare careers continue to lead the way. Healthcare and social assistance industries are projected to produce 28% of the new jobs in the next decade. With people living longer and the population aging and the increased ability to seek medical care under the Affordable Care Act, the demand has increased for all kinds of healthcare jobs. Translated, it is projected that a minimum of 5.7 million new jobs will be available by 2020.
Not only are the jobs going to increase, but the wages and salaries are expected to rise 27% or more from 2014 forward. Medical offices and hospitals continue to need more and more coders (with the advent of ICD-10 making coding itself a much more detailed and demanding process), more office assistants, office managers, and billing staff. To assist with the electronic medical record (EMR) debacle, Medical Scribes are now in great demand.
One other job that is growing rapidly with a huge 70% growth anticipated is home health aides. HHA's have one of the most meaningful health care opportunities because their contribution to those they serve makes a huge difference in the quality of life for those who need that care.
Once again, healthcare leads the way in job opportunities. To learn more about how Med-Certification can help you pursue your health care career goals, visit www.med-certification.com or call 888-771-1902.
About Med-Certification
Get trained online to be a medical coding specialist with Med-Certification. Contact us today to find out what medical certification course is right for you.
Med-Certification Founders Celebrate Two Decades In Medical Billing Coding Training is a post from: PRUnderground