Personal Injury Attorney Bernard F. Walsh Spoke About Proving Closed Head Injury Cases At The National Trial Lawyers Association Conference In Miami.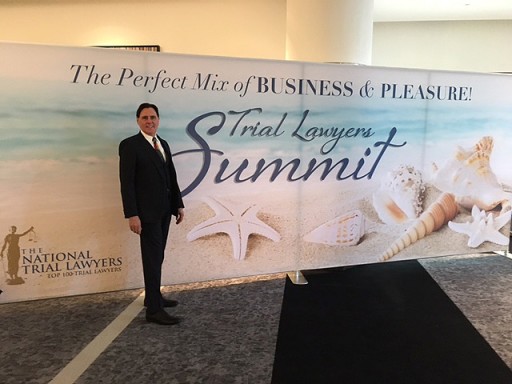 Miami, FL - February 10, 2016 - (
Newswire.com
)
Personal Injury and Civil Trial Lawyer Bernard F. Walsh from the Bradenton office of Shapiro  Goldman Babboni & Walsh gave a presentation entitled "the A-Z Basics of Proving Closed Head Injury" on Super Bowl Sunday as part of the National Trial Lawyers Association's conference.
The Conference, located at the Loews Miami Beach Hotel, began February 7th, and included many of the best Civil Plaintiff and Criminal Defense Attorneys from around the nation.
Taking place the opening day of the conference, Attorney Bernard Walsh's presentation instructed the audience of lawyers and legal industry professionals on the intricacies of successfully representing clients who have suffered a head injury with no outward signs of trauma.
Because closed head injuries have no outward physical sign of trauma, yet often result in serious and damaging disabilities for the injured, closed head injuries have been traditionally difficult for a plaintiff's attorney to successfully prove to a jury. Such cases involve high-stakes for all parties involved, as the injuries are long-lasting and debilitating, and compensation amounts to adequately cover the injured and their families' losses can be very large.  Attorney Walsh advised attorneys to become very familiar with the latest advances in medical imaging and radiology. The new capabilities of advanced medical imaging and brain scanning technology offer lawyers a way to illustrate their clients injuries to a jury and members of the court.
In the presentation, Attorney Bernard Walsh also advised lawyers that they should carefully consider the demanding nature of such cases, and the large amount of resources and time required by the plaintiff's attorney prior to taking on a closed head injury case.
Attorney Bernard Walsh had this to say about the upcoming NTL conference, "having the opportunity to help inform other lawyers on an issue as important as closed head injury is a real honor.  Closed head injuries have wide range of very damaging effects not just to the injured, but to their families as well. Giving this presentation on Super Bowl Sunday helped highlight the growing importance of effectively representing clients for head injuries, particularly now that brain injuries in athletes that suffer repeated impacts in professional sports such as football have been brought more into the public spotlight. It was great meeting with my colleagues in Miami."
About Attorney Bernard F. Walsh:
A highly experienced AV rated attorney and founder of the Manasota Trial Lawyers Board, Bernard Walsh is an active member in multiple legal organizations including the Association of Plaintiff Interstate Trucking Lawyers of America (APITLA), the Multi-Million Dollar Advocates Forum, the Florida Justice Association, the National Trial Lawyers Association and the National Association of Distinguished Counsel.
Bernard Walsh is an active member of the Manatee and Sarasota Sheriff's Advisory Boards, the Florida Highway Patrol Advisory Council and the One Hundred Club for Law Enforcement in Manatee.
Partner at the Personal Injury and Civil Trial Law firm of Shapiro, Goldman, Babboni and Walsh, Bernard Walsh has helped hundreds of Floridians get fair compensation for injuries. Additionally, Bernard Walsh has won one of Florida's largest motorcycle accident recoveries and has an AV Preeminent® rating on Martindale-Hubbel®, a doctors and attorneys ratings website and is a Superb rated attorney with Avvo.com.
Shapiro Goldman Babboni & Walsh
5291 Office Park Boulevard, Bradenton FL, 34203
Local: 941-752-7200
More information: http://www.GetMejustice.com
Contact Info:
Shapiro Goldman Babboni & Walsh
6446 Central Avenue
St. Petersburg
FL 33707
United States
Press Release Service by
Newswire.com
Original Source:
Attorney Bernard Walsh Spoke at the Super Bowl Sunday National Trial Lawyers Association Conference in Miami