Girls today are bombarded with chemicals in personal care products. QVC makes a commitment to provide healthy alternatives.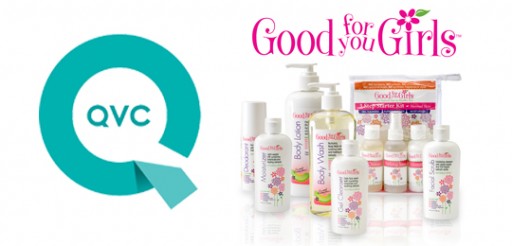 Connecticut - April 26, 2016 - (
Newswire.com
)
​When QVC, the world's leading ecommerce retailer, adds your natural products to their selection of most desirable brands, it's cause for celebration.
What began as one Mom's mission to provide her daughters with products free from hormone altering chemicals has turned into a nationwide campaign of awareness and better options for our young women.
"Adolescence is an enormous time of change in a girl's body and almost every system is affected" says Kim Grustas, the Mom behind Good For You Girls.
"We need to be supporting their bodies inside and out with as little chemical exposure as possible."
Kim launched Good For You Girls in 2008, after being unable to find non-chemically laden products on the market for her daughters.
"Both my girls had severe asthma and allergies as babies", says Grustas, "as they got older, and their needs changed, I was appalled at the toxic and inferior products sold to girls.
Having worked in the nutrition and natural product industry for years I knew I could do much better." 
What's exciting for consumers is that Good For You Girls has done all the homework ensuring products promote healthy habits while delivering products girls need and love.
The introduction of the brand on QVC.com comes just as a new study was published led by researchers at UC Berkeley and Clinica de Salud del Valle de Salinas aptly named the HERMOSA Study. (Hermosa means pretty in Spanish.) The results show a dramatic drop in teens' chemical exposure just three days after using healthier personal care choices. According to Kim Harley, lead author and associate director of the US Berkeley Center for Environmental Research and Children's Health, "Teen girls may be at a particular risk to chemicals since it's a time of rapid reproductive development, and research has suggested that they use more personal care products per day than the average adult woman."
The Environmental Working Group was the first to raise awareness with their "Teen Girl's Body Burden" study in 2008 which revealed chemicals found in the blood and urine of teens from cosmetics and body care products linked to potential health effects and hormone disruption. 
The Good For You Girls offerings on QVC.com include facial cleansers, scrubs, toners and moisturizers. Body care includes body wash, body lotion and deodorant. All products are free from parabens, sulfates, petrochemicals, phthalates, synthetic fragrance and dyes. Products never contain synthetic fragrance but rather feature delightful scents created from a 100% natural blends of essential oils and aromatics. Adding to the goodness, products are Gluten Free, Vegan and never tested on animals. Created for the special needs of young skin with only the purest, natural and organic ingredients, formulas contain beneficial botanicals like Chamomile, Aloe, Calendula, Borage, Flax and Rose Hip Oils, Vitamin B6, and White, Green and Black tea that pamper and protect young skin.
Beyond being healthier alternatives, Good For You Girls celebrates and fosters self-love through self-care. At no other time in a girls' development is learning to love oneself more important. Everything about Good For You Girls from the design aesthetic of their packaging to the customized formulas sends a special message and empowers girls to feel good about themselves every day.
To see the line on qvc.com:
http://qvc.co/goodfor_yougirls
To visit the company website:
http://www.goodforyougirls.com
For product information, images and interview requests contact:
kim@goodforyougirls.com  (860-480-8241)
References:
http://news.berkeley.edu/2016/03/07/cosmetics-chemicals
http://ehp.niehs.nih.gov/15-10514/
http://www.ewg.org/research/teen-girls-body-burden-hormone-altering-cosmetics-chemicals 
Related Links
Company Website
Contact Info:
Good For You Girls
P.O. Box 635
New Hartford
CT 06057
United States
Press Release Service by
Newswire.com
Original Source:
QVC Makes a Commitment to Girls Health