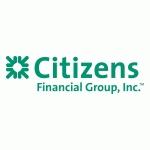 Citizens Financial Group, Inc. (NYSE: CFG) announced today that the company has been named to the Fortune 500, Fortune Magazine's annual ranking of America's leading corporations.
"As we continue to grow the company and improve our performance, we are pleased by this recognition from Fortune," said Bruce Van Saun, Chairman & CEO, Citizens Financial Group. "This milestone is a testament to the great work being done by Citizens colleagues as we pursue our objective of becoming a top-performing regional bank."
Citizens Financial Group became a fully independent, publicly traded company in November 2015. This is the first time Citizens has been named to the Fortune 500.
To learn more about Citizens Bank, customers can call the 24/7 customer contact center at 1-800-922-9999, Like the bank on Facebook, follow the bank on Twitter or visit the bank's website.
About Citizens Financial Group, Inc.
Citizens Financial Group, Inc. is one of the nation's oldest and largest financial institutions, with $140.1 billion in assets as of March 31, 2016. Headquartered in Providence, Rhode Island, Citizens offers a broad range of retail and commercial banking products and services to individuals, small businesses, middle-market companies, large corporations and institutions. In Consumer Banking, Citizens helps its retail customers "bank better" with mobile and online banking, a 24/7 customer contact center and the convenience of approximately 3,200 ATMs and approximately 1,200 Citizens Bank branches in 11 states in the New England, Mid-Atlantic and Midwest regions. Citizens also provides mortgage lending, auto lending, student lending and commercial banking services in select markets nationwide. In Commercial Banking, Citizens offers corporate, institutional and not-for-profit clients a full range of wholesale banking products and services including lending and deposits, capital markets, treasury services, foreign exchange and interest hedging, leasing and asset finance, specialty finance and trade finance.
Citizens operates through its subsidiaries Citizens Bank, N.A. and Citizens Bank of Pennsylvania. Additional information about Citizens and its full line of products and services can be found at www.citizensbank.com.
CFG-IR
CFG-CORP
View source version on businesswire.com: http://www.businesswire.com/news/home/20160606005767/en/
Contacts:
Citizens Financial Group, Inc.
Media:
Jim Hughes, 781-751-5404
or
Investors:
Ellen Taylor, 203-900-6854