Premiere Vintage and Estate Jewelry Company Announces New Acquisition of Georgian Rose Cut Diamond Jewelry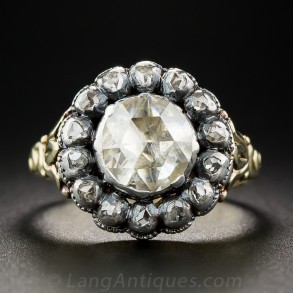 SAN FRANCISCO, CA - September 1, 2016 - (
Newswire.com
)
Lang Antique & Estate Jewelry has launched a remarkable collection of rare antique rose cut diamonds.  This unique diamond cut was first introduced in the 16th century and has recently become a popular choice for vintage style jewelry once again.
The San Francisco-based jeweler debuted their new collection of rose cut diamonds online and has all the pieces available to view and try on in person at their Union Square boutique.
The history of the rose-cut diamond began when diamond cutters in Belgium and the Netherlands developed the highly specialized style during the late 1500s.  Because the new cuts sparkled so well under candlelight, their popularity began to really take off in the late 1600s.  Rose-cuts reached American shores in the early 20th century.  Although their popularity had fallen for a time, today's collectors look to beautiful old rose-cut diamonds for something unique.
"We are extremely pleased to offer this fabulous new collection that we recently acquired from an avid and discerning collector," said Nicole Corsini, Marketing Manager of Lang Antique & Estate Jewelry. "Our client diligently sought out and purchased these gorgeous, one-of-a-kind, rose-cut studded gems during a half-century of searching all over the world."
The new collection includes spectacular riviere necklaces, line bracelets, solitaire and dinner rings, beautiful brooches and pins, and drop earrings, and can be viewed online here: http://www.langantiques.com/vintage-jewelry/rose-cut-retrospective.html.
About Lang Antique & Estate Jewelry
Lang Antique & Estate Jewelry was founded in 1969 by Mrs. Jarmilla Lang in San Francisco's fashionable Union Square shopping district. The store's display cases now overflow with the largest collection of fine vintage jewels to be found under one roof.
Whether you visit in person or shop online, their experienced and passionate staff of gemologists, appraisers and vintage jewelry experts will be more than happy to assist. They are dedicated to preserving treasures of the past, so that you may wear a little piece of history while creating your own.
For more information, visit http://www.langantiques.com or call them toll-free 800-924-2213.

###
Press Release Service by
Newswire.com
Original Source:
Lang Antique & Estate Jewelry Unveils Rose Cut Diamond Retrospective