Animal Equality Condemns Grocery Giant for Selling Eggs from Hens Crammed in Restrictive Cages, Calls for Company to Implement a Policy Banning the Cruel Confinement System.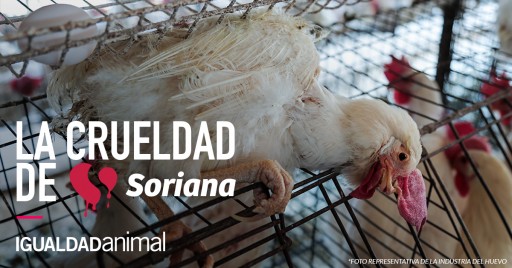 Guadalajara, Mexico - November 1, 2016 - (
Newswire.com
)
​​On Thursday, members of Animal Equality will gather in protest outside a Soriana supermarket to demand that the company implement a policy banning the sale of eggs from caged hens.
Protesters will wield posters bearing images of featherless and injured hens stuffed into tiny wire cages. Other protesters will hold iPads playing videos on repeat of hens suffering on caged egg farms like the ones from which Soriana sources eggs.
"By failing to implement a ban on cages, Soriana is ignoring the public's cries for better treatment of animals," said Animal Equality's executive director, Dulce Ramirez, Executive Director of Animal Equality Mexico.
She added, "Soriana is also lagging behind other major food companies that have already made cage-free commitments. As the country's leading retailer, Soriana has the power, as well as and a responsibility, to reduce the suffering of millions of birds each year."
The eye-catching protest by the international animal protection organization is part of a series of demonstrations against the country's top grocer. The events are aimed at educating consumers about the horrific conditions in which hens who lay eggs for Soriana are raised.
Date: Thursday, November 3, 2016
Time: 11am–12pm
Location: Soriana de Pablo Neruda #2954 en Providencia, Guadalajara, Jalisco​
Just three weeks ago Animal Equality released a groundbreaking undercover investigation of egg farms in Mexico, revealing a first look at an industry previously concealed from the public eye. Hidden-camera footage revealed disturbing images of injured chickens trapped in cages so small they can't engage in the simplest of natural behaviors, such as walking freely or extending their wings.
With less floor space than the size of an iPad per bird, stressed hens are forced to climb over each other. Many become painfully mangled in cage wire and are left to languish, while other birds are trampled to death. Dead hens are left to rot alongside birds still laying eggs for human consumption.
Several leading food companies in Mexico--such as McDonald's, Burger King, Toks, Grupo Bimbo, and Alsea--have already made public commitments to eliminate cages. However, Soriana continues to lag behind, ignoring the egregious conditions of animals used in its egg supply chain.
Since Animal Equality released its investigation of the egg industry less than a month ago, nearly 10,000 Mexican citizens have signed a petition calling for companies such as Soriana to get rid of cages. In addition, hundreds of concerned consumers have emailed and called Soriana's CEO, Ricardo Martín Bringas, urging him to set a firm deadline for going 100 percent cage-free in all Soriana stores.
View Animal Equality's investigation of caged egg facilities in Mexico: LaVidaEnUnaJaula.com.
For more information, interviews, or images after the protest, contact:
Dulce Ramirez
+5213334706614
DulceR@AnimalEquality.org
Related Images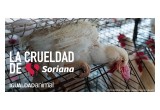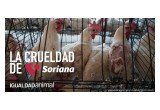 Press Release Service by
Newswire.com
Original Source:
Activists Demand Soriana Make Animal Welfare Improvements