The experts at Bio Clean, Inc., is committed to providing the victim with quality clean up services from an additional emotional and overwhelming burden.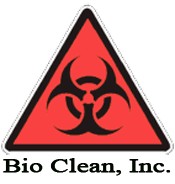 Lake Stevens, WA - January 18, 2017 - (
Newswire.com
)
​A fatal accident or a horrific murder is most likely to have a negative impact on the mind. The crime scene might also turn out to be a health hazard if not taken care of properly. Professional cleaning of the crime or accident sites is, therefore, necessary to erase all the memories of the fateful event that might otherwise turn out to be disturbing. Bio Clean, Inc., fully licensed and insured contractor is here to help the individuals with utmost care and professionalism, charging competitive price for crime scene clean up in Seattle.
Armed with latest advances in technology and expertise, the technicians at Bio Clean, Inc., are dedicated to removing the unpleasant reminder to ensure that  families, friends, and loved ones can begin the healing process. The experts possess knowledge and expertise in dealing with crime scene clean up, providing ease of mind. As they are emotionally detached from the deceased person, they can efficiently perform the tasks without any hassle.
Having undergone hours of specialized training, experts can quickly detect the environmental issues that must be addressed. Contaminants such as toxic chemicals, biological residue, lethal pathogens, other elements must be properly cleaned to bring back the normal, natural clean environmental order.
Their professionalism and strict adherence to ethics and values have put them ahead of their competitors. Known for their highest quality of performance for restoring home and property to a safe environment, their technicians are all set to respond to the call immediately and provide unattended death clean up in Washington The customer service is available 24x7 to assist a party with whom they are dealing with. The staff is certified. They have rightly equipped with permits and equipment, and protection gear to safely clean up the area affected by the crime scene.
For more information, visit their website or call them at 888-412-6300. Get to learn about the other area of works.
About the Company:
Bio Clean, Inc. is a fully licensed, bonded and insured contractor. Bio Clean, Inc. works under the authority of the Washington State Health Department.  It is their genuine passion and understanding that puts them out front in the cleanup industry.
Press Release Service by
Newswire.com
Original Source:
Let Professionals Handle Crime Scene Clean Up in Seattle