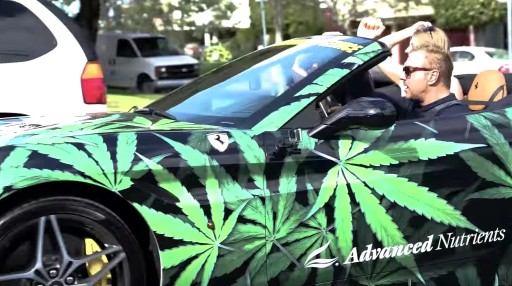 Los Angeles, CA - April 20, 2017 - (
Newswire.com
)
To celebrate 4/20 -- the Cannabis community's most culturally cherished day -- Michael "BigMike" Straumietis (founder and CEO of Advanced Nutrients, the #1 brand in Cannabis) surprised 3 of his social media fans with a visit to their home, where he gave them each an ounce of King Moses OG and a gift bag filled with branded swag.
These lucky fans, @ibicakes, @doc_the_drummer, and @stevenrichardson, also received what has become the most sought-after invitation among Hollywood's movers and shakers--an exclusive invite to BigMike's legendary 4th of July BBQ Malibu Beach Party.  
While BigMike has earned his reputation as an innovator and thought leader within the Cannabis community, his celebrity CEO status is growing in the mainstream (right along with the wave of Cannabis legalization that's growing around the world) thanks, in part, to his wildly popular Cannabis-themed @BigMike Instagram account that has well over 1 million followers and growing.
BigMike, standing 6 foot 7 inches, is larger than life and doesn't do anything small, so he had his new Ferrari transformed with a West Coast Customs custom-designed car wrap. The eye-catching marijuana-themed Ferrari is a stoner's dream come true and has the words "Fastest Weed Delivery Service" emblazoned on the windshield. With over one million fans on Instagram, the King of Cannabis, (or the Marijuana Don as he's also known) turned lots of heads as his Ferrari roared through the streets of Southern California on his way to making 3 lucky fans very happy.
BigMike is no stranger to giving big gifts and was just recently in the news because he and his primary charity Holiday Heroes hand-delivered over 2,000 backpacks filled with hygiene products, daily living necessities, and non-perishable items to the LA homeless community for the Easter holiday. This is the second backpack giveaway BigMike has done in the last five months on Skid Row and Los Angeles city Shelters, each charitable giveaway costing him over $100,000.00.
#########
For more information, press only:
René Rodriguez, 323-326-3305, rene@AdvancedNutrients.com
For more information:
https://www.instagram.com/bigmike/
http://www.advancednutrients.com
Press Release Service by
Newswire.com
Original Source:
Marijuana Millionaire Celebrates 4/20 With a Surprise Gift of Giant Bags of Weed to 3 Lucky Social Media Fans in His Custom Ferrari