PracticePanther would like to contribute to the Hurricane Harvey relief effort.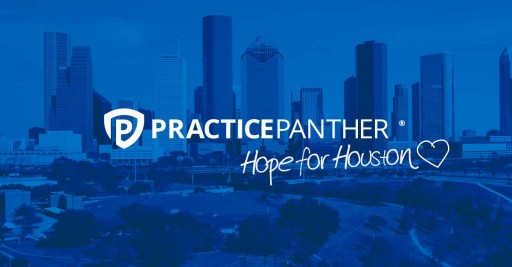 Miami, Fl - August 31, 2017 - (
Newswire.com
)
​When news of the devastation caused by Hurricane Harvey reached us, we at PracticePanther felt an immediate connection with the people of Texas and Louisiana. South Floridians are especially aware of the suffering hurricanes leave in their wake. Many of us still live with the harrowing memories Hurricane Andrew imprinted on us and our city. We want to express our sorrow over the lives lost to Harvey. Likewise, we extend our deepest sympathies to those whose homes and livelihoods were damaged by the storm and subsequent flooding.
Recovering after a hurricane is never an easy feat. We would like to tell the people of Houston and everyone else touched by Harvey that your pain will subside. You will heal from these wounds and grow stronger from this experience. We also want to extend our gratitude to the brave women and men who have volunteered in the relief efforts. Much more work lies ahead, but you are not alone in the struggle. As such, we would like to do our part to support the people affected by Harvey and help in the relief efforts as best we can. PracticePanther is announcing that every member of the Panther Family in the Houston area will receive our software for free for two months.
"We were devastated by the news coming from Houston and knew we had to help in some way," said David Bitton, co-founder and CEO of PracticePanther. "Our whole company was founded on the principle that we treat our members like family. We would be nowhere without their support. So, we want to help and support our members in their time of need."
As the relief efforts get under way and businesses begin to reopen, the recovery time will mean lost revenues to business owners. PracticePanther wants to provide its members with a way to help them get back on their feet. By providing its members with the free service, PracticePanther hopes that its members will be able to serve the public during this crucial time.
Additionally, PracticePanther will create a special post on it social media accounts. For every like the post gets, PracticePanther will donate $1 and for every share or comment they will donate $2 to disaster relief efforts.
People interested in supporting our fundraising efforts for the victims of Hurricane Harvey are encouraged to visit the PracticePanther social media accounts on Facebook, Twitter (@practicepanther), and Instagram to contribute to the effort.
About PracticePanther.com
PraticePanther is an intuitive legal case management software solution designed for legal case management, giving attorneys and paralegals a wide range of features to aid communication, document management, trust accounting and legal billing. PracticePanther integrates with Gmail, Outlook, Quickbooks Online, Dropbox, and a multitude of other online software solutions that define a modern attorney's workspace. The online system allows attorneys, paralegals and clients to stay up-to- date with case information and news, keep in touch and see real-time developments.
Contact:
Eddy Bermudez​ / ​George Llizo
PracticePanther
10800 Biscayne Blvd Suite #201
Miami, FL 33161
Phone: 800.856.8729 x 524
Ebermudez@practicepanther.com
George@practicepanther.com
Related Links
PracticePanther
Press Release Service by
Newswire.com
Original Source:
To Help Victims of Hurricane Harvey PracticePanther is Offering 2 Months Free for Attorneys in the Houston Area