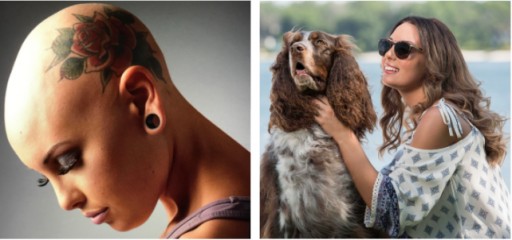 Boca Raton, FL - September 7, 2017 - (
Newswire.com
)
In honor of National Alopecia Areata Awareness Month in September, the National Alopecia Areata Foundation (NAAF) has unveiled its new 'HearUs Challenge', a 4-week fundraising program launched to raise awareness for those suffering from this autoimmune condition that causes hair loss. Hair Club, the leading provider of proven hair loss solutions across North America, is supporting the HearUs Challenge by sharing stories of some of its clients living with the condition.
"Hair loss is often misunderstood," said Lee Zoppa, Hair Club's Vice President of Marketing and Advertising. "At Hair Club, we provide education, support and proven solutions for men and women with all types of hair loss conditions—including those with alopecia areata."
Two very special Hair Club clients, who both have alopecia totalis, a form of alopecia areata that results in the complete loss of scalp hair, have shared their personal stories on Hair Club's blog.  
Isabelle, Hair Club client and stylist, was diagnosed with alopecia totalis when she was 3 years old. At age 9, Isabelle became a client of Hair Club for Kids®, a charitable program that offers free non-surgical hair restoration to children ages 6-17 who are suffering from hair loss. After graduating from high school, Isabelle earned her cosmetology license and became a stylist at  Hair Club Albany. She even got a tattoo of a red rose on her scalp in September 2016 in honor of National Alopecia Areata Awareness Month.
Lisa became a Hair Club client in 2011 so she could do the two things she loves most, working out and serving her country as an army reserve officer, without worrying about her hair. After suffering with hair loss for years, Lisa is thrilled with her Hair Club solution. She says the best part about having a full head of hair again is that she loves the way her hair makes her feel—confident in everything she does.
"These brave women openly share their stories to let others with alopecia areata know they are not alone," said Zoppa. "They talk about their hair loss to raise awareness and encourage others to explore their options."
About Hair Club
Founded in 1976, Hair Club is North America's number one provider of proven hair loss solutions. For more than forty years, Hair Club has helped hundreds of thousands restore their hair and transform their lives. Today, Hair Club has nearly 120 locations throughout the United States, Canada, and Puerto Rico and is a wholly owned subsidiary of Tokyo-based Aderans Co. Ltd., the world's leading provider of total hair loss solutions. Aderans brands in the U.S. include Bosley Medical Group. Professional hair transplantation services are provided by the affiliated physicians of Bosley Medical Group. Please note that no procedures are performed at Bosley® until the patient has been examined, diagnosed and accepted for treatment by a Bosley physician. 
Press Release Service by
Newswire.com
Original Source:
Hair Club® Supports National Alopecia Areata Awareness Month