ToothShower, which launched on Kickstarter on Oct. 17, has raised more than $55,000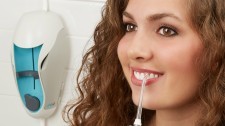 COLLEGEVILLE, Pa. - November 7, 2017 - (
Newswire.com
)
​​ToothShower, the innovative complete oral care solution for the shower created by a dental hygienist, launched its first Kickstarter campaign on Oct. 17. Hoping to raise $25,000, ToothShower met that goal in the first 28 hours and has now raised more than $65,000 - and still climbing. The campaign will end on Nov. 30 and relaunch on Indiegogo for the month of December. The success of the campaign is a good indication of just how needed and effective ToothShower is for consumers.
"If you hate to floss, you're not alone," says Lisa Guenst, inventor of ToothShower. "As a dental hygienist for 25 years, I saw many patients who hated to floss, some who would forget, and others just thought it was too cumbersome. I created ToothShower to provide a practical solution that people would use. We are very excited by how much support ToothShower has received through the campaign."
Research from the Center for Disease Control shows that one out of every two American adults aged 30 and over has periodontal disease, which is chronic inflammatory disease that affects the gum tissue and bone supporting the teeth. If this is left untreated, periodontal disease can lead to tooth loss. Research has also shown that periodontal disease is associated with other chronic inflammatory diseases such as diabetes and cardiovascular disease.
Last year, the Associated Press published an article detailing its findings that flossing isn't as effective as once thought. After looking at the most rigorous research conducted over the past decade and focusing on 25 studies that generally compared the use of a toothbrush with the combination of toothbrushes and floss, the AP found the evidence for flossing is "weak, very unreliable," of "very low" quality and carries "a moderate to large potential for bias." But researchers and dentists know that finding an easy but effective method for oral health is necessary for the health of gums and teeth.
ToothShower provides the solution. Using the water from the shower, ToothShower cleans 100 percent of teeth surfaces, as compared to 60 percent with average brushing. ToothShower also offers three kinds of cleaning in one care solution. Along with a base that attaches to the shower wall, there are three different attachments for optimum oral care including a dual-headed toothbrush, an irrigating tip and a gum massager.
The dual-headed toothbrush hits both the front and back and sides of teeth, leaving no place for plaque to hide. The irrigating tip flushes water between teeth like a water flosser but without the mess to clean up. ToothShower works especially well for braces to pinpoint spots that a toothbrush can't reach. Finally, the gum massager works with seven jets of water to stimulate important blood flow in the gums, which is a huge part of preventing, and even healing, gum disease.
ToothShower is also easy to use. There is a one-time installation. Users attach the wall plate with the waterproof adhesive, lock the console onto the plate, attach the valve to the showerhead and finally connect the ToothShower to the valve. The user can control both the water pressure and the temperature to their comfort.
Through the Kickstarter campaign, ToothShower is being offered for an early significantly discounted price of $84, which is a savings of $45. For those that want one console but two sets of attachments, the early pricing is $94. A two-pack of the whole set is $149 and a four-pack is being offered early at $269, giving customers a $247 savings.
Those interested are encouraged to lock in their orders early because of the limited number available under the presales and some categories are quickly selling out. To learn more and make a pre-sale purchase, visit ToothShower.com.
About ToothShower
ToothShower is a complete oral home care suite for the shower. The company was founded and the appliance invented by Lisa Guenst. Guenst has degrees from the University of Pennsylvania and Temple University. To learn more, visit ToothShower.com.
Press Contact:
lisa@toothshower.com
Press Release Service by
Newswire.com
Original Source:
Alternative to Flossing: ToothShower Reached Kickstarter Goal in First 28 Hours and Still Growing