Tickers: PINX:PAWEF, XTSX:NAM
Tags: Mining
-Footwall PGM mineralization continues to be encountered at the River Valley PGM Deposit
-Drilling from 2015 to 2017 has confirmed footwall mineralization in the Pine Zone with mineralization extending ~140m east and 1010m of strike of the original mineralized zone of the River Valley PGM Deposit.
-Future exploration will involve additional ground IP geophysics along the T4 to T9 footwall anomalies.
-Footwall PGM mineralization is a new and additional source of PGM mineralization which will be included in the resource model.
-Updated geological exploration plan and NI 43-101 resource calculations with WSP Canada have commenced and will include all the new data on the deposit and the deposits southern extension. This is expected to be completed in Q1-2018.
-River Valley is the Largest Undeveloped Primary PGM resource in Canada, with 3.9Moz PdEq in Measured Plus Indicated including an additional 1.2Moz PdEq in Inferred.
Vancouver, Canada / TheNewswire / November 28, 2017 - New Age Metals Inc. (TSX.V: NAM; OTCQB: PAWEF; FSE: P7J.F) is pleased to announce all data from the latest drill program is completed and that the new NI 43-101 resource calculation has commenced with Todd McCracken at WSP Canada. This drill program was focused on the Pine Zone (T2) and T3 as a follow up to the 2015 and 2016 drilling and IP geophysical work at the River Valley Platinum Group Metals (PGM) Deposit.
President and COO Trevor Richardson states "PGM Mineralization was discovered in the River Valley Intrusion in 1999 and active exploration was carried out from 1999 to 2012 (Figure 1). In 2015, reinterpretation of past results led to the theory of PGM mineralization in the footwall. The 2015 drilling confirmed this theory and led to the 2016 and 2017 drilling (Figure 2-Table 3) that continued to confirm the PGM footwall mineralization (see NAM website - Press Releases)".
In 2016, the company obtained the Mustang Minerals' southern portion of the River Valley PGM Deposit (River Valley Extension, News Release - Oct 5th, 2016). This added 4 kilometres of mineralized strike length to the company's River Valley PGM Deposit. This additional mineralization will be a part of the new resource model presently being developed by WSP Canada.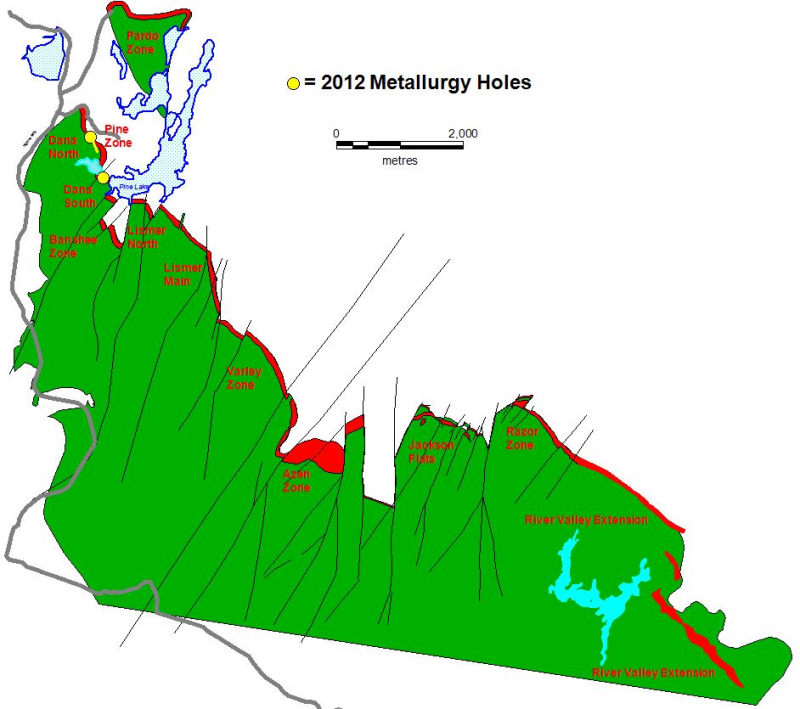 Click Image To View Full Size
Figure 1: The River Valley PGM Deposit - approximately 16 kilometres of Mineralization
In the fall of 2012, two holes were drilled for metallurgical purposes (news release - Oct 12, 2012). One at Dana North Zone and the other 600 metres to the south at Dana South Zone (refer to maps in Figure 1 or Figure 2 for location). The hole at Dana North was drilled for 300 metres obliquely down-dip where the zone shows a consistent orientation laterally. The Dana South hole was drilled vertically for 300 metres in deference to its relatively more irregular orientation laterally. True thickness of the deposit is not reflected in the holes as they were drilled parallel to the mineralization to maximize the amount of mineralization for purposes of metallurgy work (Table 1 and Table 2).


Click Image To View Full Size
Table 1: 2012 Metallurgy hole coordinates.
A review of the drill logs indicated that multiple zones may be present.

Click Image To View Full Size
Table 2: 2012 Assay Results of the Metallurgical Holes
During the spring of 2017 (Figure 2), a ground IP survey was carried out by Abitibi Geophysics (News Release - June 19th, 2017). This worked was carried out in the Pine Zone, T3 and Banshee Zone areas with focus on the area into the footwall of the main deposit (Figure 2). Drilling in 2017 utilized the geophysical survey as a guide to drill targeting.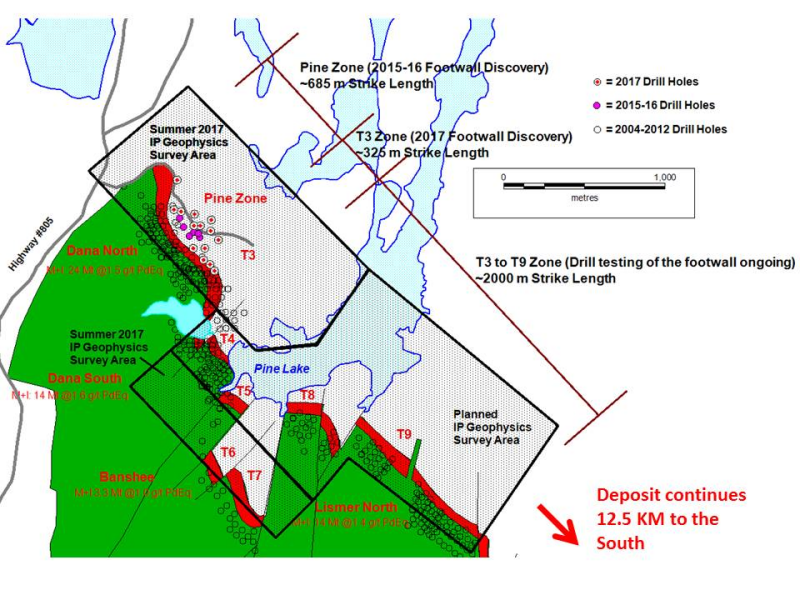 Click Image To View Full Size
Figure 2: Drill Hole Distribution Map in the Northern Portion of the River Valley PGM Deposit
(Image only represents approximately 3.5 km of the overall strike length of the deposit)
River Valley PGM Exploration Going Forward
To date an approximate 140,659 meters (461,480 feet) in 628 drill holes have been conducted by the company and its past major joint venture partners to test the PGM mineralization of the River Valley PGM Deposit. Several independent 43-101 compliant resource estimates have previously been generated for the deposit through the development phases. The River Valley Deposit's present resource, with approximately 3.9 PdEq ounces in Measured Plus Indicated mineral resources and near-surface mineralization covers over 16 kilometres of continuous strike length.

Click Image To View Full Size
Table 3: 2015 to 2017 Drill Activity at the River Valley PGM Deposit - Footwall Mineralization
The exploration plans of the company are to carry out more ground IP geophysics in the upcoming months (Figure 2). Geophysics will be concentrated into the footwall portion of the main River Valley PGM Deposit southward of the latest IP survey to cover the area between targets T4 to T9. This area represents a strike length of approximately 2000 metres.
Upon completion of the geophysics, the company will initiate a drill program to test the anomalies generated from the geophysics. The goal is to examine the potential for continuous PGM mineralization into the footwall area eastward of the main River Valley PGM Deposit.
WSP Canada (News Release: Sept 7th, 2017) has started the new resource calculation for the River Valley PGM Deposit. This work will be supervised by Todd McCracken and will incorporate the past data, new drilling since 2012 and the River Valley Extensions (previous Mustang Minerals ground). The company plans to initialize a Preliminary Economic Assessment (PEA) Report in the future with WSP Canada.
In addition, the Company announces that it has granted 200,000 incentive stock options to a consultant of the Company at an exercise price of $0.12 per share for a period of five (5) years from the date of grant in accordance with the Company's Stock Option Plan. The Stock Options granted will be subject to vesting restrictions and will vest quarterly over one (1) year from the date of grant. The options are subject to acceptance by the TSX Venture Exchange and will be subject to regulatory hold periods in accordance with applicable Canadian Securities Laws.
ABOUT NAM'S PGM DIVISION
NAM's flagship project is its 100% owned River Valley PGM Project (NAM Website - River Valley Project) in the Sudbury Mining District of Northern Ontario (100 km east of Sudbury, Ontario). Presently the River Valley Project is Canada's largest primary undeveloped PGM deposit with Measured + Indicated resources of 91 million tonnes @ 0.58 g/t Palladium, 0.22 g/t Platinum, 0.04 g/t Gold, at a cut-off grade of 0.8 g/t PdEq for 2,463,000 ounces PGM plus Gold. This equates to 3,942,910 PdEq ounces. The River Valley PGM-Copper-Nickel Sulphide mineralized zones remains open to expansion. The company has recently completed a drill program on the Pine and T3 Zones.
ABOUT NAM'S LITHIUM DIVISION
The Company has five pegmatite hosted Lithium Projects in the Winnipeg River Pegmatite Field, located in SE Manitoba. Three of the projects are drill ready. This Pegmatite Field hosts the world class Tanco Pegmatite that has been mined for Tantalum, Cesium and Spodumene (one of the primary Lithium ore minerals) in varying capacities, since 1969. NAM's Lithium Projects are strategically situated in this prolific Pegmatite Field. Presently, NAM is the largest mineral claim holder in the Winnipeg River Pegmatite Field and is seeking JV partners to further develop the company's Li division.
QUALIFIED PERSON
The contents contained herein that relate to Exploration Results or Mineral Resources is based on information compiled, reviewed or prepared by Carey Galeschuk, a consulting geoscientist for New Age Metals. Mr. Galeschuk is the Qualified Person as defined by National Instrument 43-101 and has reviewed and approved the technical content of this news release.
On behalf of the Board of Directors
"Harry Barr"
Harry G. Barr
Chairman and CEO
Neither the TSX Venture Exchange nor its Regulation Services Provider (as that term is defined in the policies of the TSX Venture Exchange) accepts responsibility for the adequacy or accuracy of this release.
Cautionary Note Regarding Forward Looking Statements: This release contains forward-looking statements that involve risks and uncertainties. These statements may differ materially from actual future events or results and are based on current expectations or beliefs. For this purpose, statements of historical fact may be deemed to be forward-looking statements. In addition, forward-looking statements include statements in which the Company uses words such as "continue", "efforts", "expect", "believe", "anticipate", "confident", "intend", "strategy", "plan", "will", "estimate", "project", "goal", "target", "prospects", "optimistic" or similar expressions. These statements by their nature involve risks and uncertainties, and actual results may differ materially depending on a variety of important factors, including, among others, the Company's ability and continuation of efforts to timely and completely make available adequate current public information, additional or different regulatory and legal requirements and restrictions that may be imposed, and other factors as may be discussed in the documents filed by the Company on SEDAR (www.sedar.com), including the most recent reports that identify important risk factors that could cause actual results to differ from those contained in the forward-looking statements. The Company does not undertake any obligation to review or confirm analysts' expectations or estimates or to release publicly any revisions to any forward-looking statements to reflect events or circumstances after the date hereof or to reflect the occurrence of unanticipated events. Investors should not place undue reliance on forward-looking statements.
Copyright (c) 2017 TheNewswire - All rights reserved.