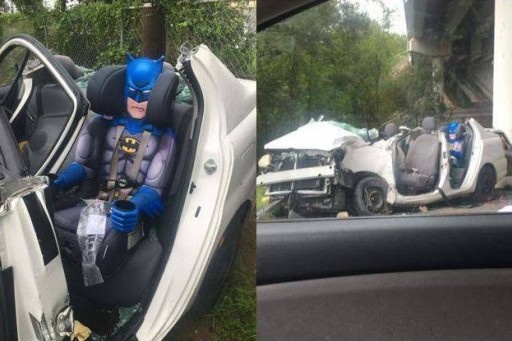 LOS ANGELES - June 12, 2018 - (
Newswire.com
)
With the summer travel months approaching, it's imperative that children's car seats are checked for proper installation. The CDC reports that car seats reduce infant injuries by 71 percent and 54 percent for toddlers in passenger vehicles. Another way to reduce the chances of serious injury in the event of a crash is by having the child sit properly in their car seat, and that is where KidsEmbrace comes in.
When it comes to keeping kids safe in the car, certain things are a must, and properly installing a reliable car booster seat should be at the top of the list. Additionally, no matter how hard they try, many parents have problems getting their kids excited about sitting in a car seat, let alone sitting still in it.
KidsEmbrace has made its mark on the car seat industry by offering safe products that kids want to use, and parents approve of, and offers something that other car seat companies can't – excitement and the desire for a child to want to get buckled in. The Company has been offering unique character-themed car seats, while "Making Safety Fun", since 2010.
Another way KidsEmbrace delivers value to parents is by providing information on how to properly install car seats. "Our entire staff at KidsEmbrace are Certified Child Passenger Safety Technicians so that we can make sure we practice what we preach. We encourage all parents and caregivers to thoroughly read their manuals for each car seat the child transitions to, and to also visit safekids.org for the most up to date car seat safety information," says Vincent Mastrangelo, COO for KidsEmbrace.
"Car seat safety is important and with 59 percent of car seats reportedly being improperly installed, our car seats are not only fun, they're heroic, as they help draw attention and allow us to deliver the important message of just how vital proper installation is. A woman's post went viral on Facebook after a KidsEmbrace car seat, which was properly installed by the caregiver who happened to be her sister, helped prevent her 4-year-old nephew from having any serious injuries as he walked away with only a bruise on his cheek (see picture). The accident was so serious that the boy's mother was in a wheelchair for 3 months but luckily she was able to find comfort knowing her son was completely unharmed and likely because she had properly installed her KidsEmbrace Batman Car seat," says Mastrangelo.
This car seat was the Winner of the 2017 and 2018 Family Choice Award. Nominated for a 2018 LIMA Award, it was also given the prestigious Amazon Choice label, indicating it is a best-selling product in its category and warranted by its countless 5-star reviews.
The KidsEmbrace Combination Car Seats are available in many different styles, including DC Comics and Marvel superheroes as well as Disney Princesses and a few of your favorite pups from Paw Patrol. They're the seats kids love to be in, and parents approve of. The full selection can be seen at the KidsEmbrace online store or all your popular online retailers.
For proper car seat installation guidelines, always refer to the manufacturer's full manual and visit SafeKids.org for the most up-to-date information.
The Doctors TV Show Link
https://www.thedoctorstv.com/articles/4703-are-you-making-car-seat-mistakes-and-endangering-your-child
Amazon Store Link
https://www.amazon.com/s/ref=nb_sb_noss_1?url=search-alias%3Daps&field-keywords=kidsembrace&rh=i%3Aaps%2Ck%3Akidsembrace
Follow KidsEmbrace on Instagram and Facebook.
Contact: Rick Conn
(818) 465-2902
rickc@kidsembrace.com
Press Release Service by
Newswire.com
Original Source:
KidsEmbrace Says Improper Installation of 59 Percent of Children's Car Seats is 'Unacceptable'