Stamford Uniform and Linen has announced a redesigned informational page for NYC linen service issues. The new page emphasizes New York City services even though the company is headquartered in Stamford, Connecticut.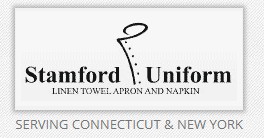 Brooklyn, New York - June 29, 2018 - (
Newswire.com
)
Stamford Uniform and Linen, a professional linen service for New York City and Brooklyn, is proud to announce an overhaul to the informational page on linen services, now with an emphasis on New York City. Businesses in the heart of New York, especially in the boroughs of Manhattan and Brooklyn, may find the best linen and uniform delivery service can be found not in New York City but from a company that has its plant in Stamford, Connecticut.
"A quality product and excellent work ethic are key to giving the best to any business, including restaurant linens" explained Paul McDonald, CEO of Stamford Uniform and Linen. "Our uniform and linen service personnel get up early every morning to support the New York City and Brooklyn community. Our newly updated page reflects this."
To review Stamford Linen's modernized page for NYC linen service, please go to  http://www.stamfordlinen.com/linen-service/. To review information specific to Brooklyn, visit http://www.stamfordlinen.com/brooklyn-ny/.
NYC LINEN SERVICE RISES EARLY TO HELP NEW YORK RESTAURANTS OPEN ON TIME
Here is the background for this release. Restaurants in the heart of New York, including areas like Brooklyn and Manhattan, may work hard in order to open for business on time each day. A fresh menu might have been printed and displayed out front. A friendly host or hostess could be ready to greet visitors. Uniforms can appear clean and crisp as well as table linens. The presentation can appear to be spot on to a passerby searching for an exceptional dining experience. It might be important to learn a top NYC linen service can be behind the scenes helping a business shine. Yet, ironically, New York City businesses might not realize that the best choice in a linen service is not one with a physical plant in New York City. Due to high real estate and labor costs, all linen supply services do the hard work outside of the nation's largest and most expensive city.
For these reasons, Stamford Uniform and Linen has announced an upgrade to the service page linen services to communicate clearly that it services New York City, including both Brooklyn and Manhattan. Interested persons are urged to visit the website and reach out to the company for further comment.
ABOUT STAMFORD UNIFORM AND LINEN
Stamford Uniform and Linen is a top-rated commercial linen service. Stamford Uniform and Linen offers pickup and delivery service for the greater New York City area. Locations available include Manhattan, Brooklyn, and Queens.  As opposed to a traditional linen and uniform supply company, the company 'rents' uniforms or linens making it easier than ever for small businesses. Stamford Uniform is available to businesses looking for various types of service uniforms such as medical uniforms, wait staff attire, chef coats, spa uniforms and hotel staff uniforms.  To contact the best uniform and linen supply service, go to the website.
Web. http://www.stamfordlinen.com/
Related Links
Linen Supply Company
Brooklyn Linen Supply Companies
Press Release Service by
Newswire.com
Original Source:
Stamford Uniform & Linen Service Announces Fresh Update to NYC Linen Service Page