Narconon Suncoast kicked off Recovery Month with a community event at their facility in Clearwater, Florida. The event celebrated a recent graduate's rise from a broken and addicted biker to a responsible, upstanding member of society who found success in Narconon's holistic rehabilitation approach.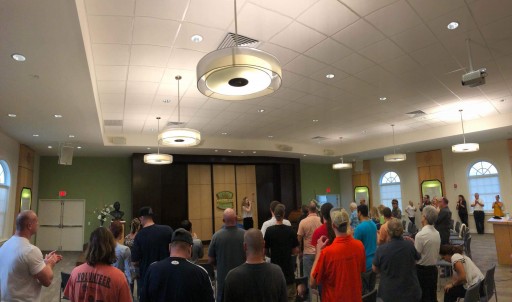 CLEARWATER, Fla. - September 24, 2018 - (
Newswire.com
)
​National Recovery Month commenced at Narconon Suncoast this week with graduates from all over the country sharing their wins in living recovered lives.
Saturday night's celebration was kicked off with an inspirational set of songs provided by pop-singer Jierra Clark. The music flowed into the students' discussion of program successes that claimed improved cognitive abilities and physical rejuvenation after the sauna detox to the mental changes that occurred after completing the Life Skills courses. 
One graduate John L. said, "I graduated the program in 1997. I can't even imagine my life without it. I'm a diabetic and tore up my body pretty well using drugs and alcohol. I'm pretty sure that without the sauna program, I never would have become as healthy as I am today or accomplished half the things I have. Today I am a dad and a grandfather. I have a great job and can honestly thank Narconon every day for giving me these opportunities."
A mom, Shirley Y. shared, "I was waiting for that call for over 10 years. You know the one where they tell you he's in the hospital barely alive or in the morgue. I found Narconon and I decided to break through that wall of nothing being able to help him. I kept at it. One time I even gave him the paperwork for his will and samples of tombstones. That seemed to help make it real and a couple weeks later, he agreed to go. Now he's been clean for over 10 years, created his own business, has a fianceé and I can go to sleep knowing that nightmare is over. Thank you, Narconon."
The evening's graduate spoke of his average, active youth and how that slipped into drugs, multiple failed attempts at recovery, stays in prison and then joining a biker gang. In the end, an overdose got him kicked out of the biker club and caused him to spiral to a point where his mom said he had to get help. He came to Narconon Suncoast, got his body cleaned up and his life back on track. He said, "I felt so much better physically after the sauna program and some life-altering realizations. The analogy I use is that of a car, a motor and the driver. I knew I had a body and a brain, but I never knew who was running the show. Who was really running my life? I discovered myself, me, the person who is running this show. I'm the one that makes my car go where it's supposed to go. That realization opened the door to my full recovery and a successful plan for a healthy sober life. It changed me forever!"
Narconon Suncoast strives to rid the world of addiction through a non-medical, holistic approach, getting a person drug off drugs for good. For more information, visit www.narconon-suncoast.org.
Press Release Service by
Newswire.com
Original Source:
Narconon Suncoast Highlights Success of Holistic Recovery