Narconon Suncoast drug education and rehabilitation center participated in the National Coffee With a Cop Day in Safety Harbor, Florida. Yvonne Rodgers, Director of Community Affairs, met with local police and residents to discuss the importance of education and prevention as a means of slowing down the drug crisis.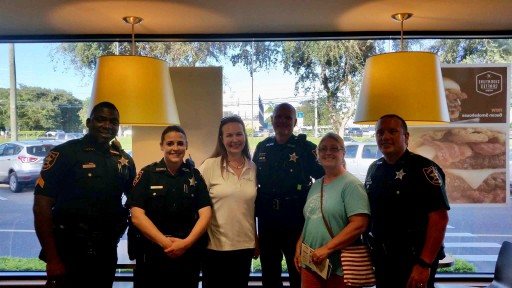 SAFETY HARBOR, Fla. - October 16, 2018 - (
Newswire.com
)
Narconon Suncoast participated in National Coffee with a Cop Day in Pinellas County this week where facility representative Yvonne Rodgers stressed how important drug education and prevention is to curbing the drug crisis.
"With the opioid crisis, in conjunction with the methamphetamine and benzodiazepine problem, rampant, now is the time for drug rehabilitation centers and law enforcement agencies to work together to not only keep local communities safe but to also help the suffering addict and their families," said Mrs. Rodgers. 
Officers from the Pinellas County Sheriff's Office came out to meet citizens and share safety and prevention information as well as create a way to get in communication with the community.  
"This event really opened my eyes to how few people know what our officers do each day to help keep our communities safe. When the average person gets pulled over, it's not the time to ask about neighborhood issues or those questions you've always wanted to ask an officer. This event lets the community soothe their curious minds and get to know these officers as the caring and hardworking person behind the badge. I appreciated hearing about how to best educate the public about drug abuse and also how to prevent drug-related crimes from the Narconon Suncoast representative," said Karen Howell, who has lived in the Countryside area of Pinellas County for over 20 years.
Narconon Suncoast is a non-12 step, holistic, drug education and rehabilitation center located in the beautiful beach town of Clearwater, Florida. For over 50 years, the Narconon program has worked with thousands of addicts, helping them get their lives back and beat their addictions. Drug prevention, education and addiction recovery information is available from Narconon Suncoast at (727) 304-4176 or www.narconon-suncoast.org.
Press Release Service by
Newswire.com
Original Source:
Narconon Suncoast Stresses Importance of Drug Prevention at National Coffee With a Cop Day