Narconon Suncoast gave support to the National Overdose Prevention and Education task force's candlelight vigil at Pasco Hernando State College. As the community came together to remember the lives lost to drug addiction, the opportunity was taken to discuss the drug crisis, while sharing stories of hope and recovery.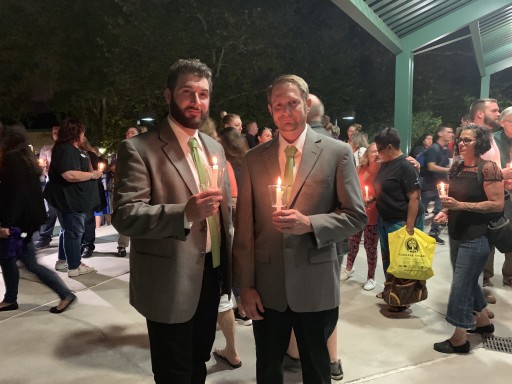 NEW PORT RICHEY, Fla. - October 29, 2018 - (
Newswire.com
)
Narconon Suncoast recently participated in the Narcotics Overdose Prevention and Education task force's candlelight vigil at Pasco Hernando State College in New Port Richey, Florida. The event was hosted by the Alliance for Substance Abuse Prevention, with over 100 community members in attendance. Recovering addicts, friends and families came together to pay tribute to those who lost their lives to addiction and took this opportunity to educate each other on the current drug crisis and share stories of loss, hope and recovery.
Walking into the event, participants passed by a "remembrance wall" with photos of once bright, happy sons, daughters, mothers and fathers who were taken from their families too soon after losing their battles with substance abuse. Speakers at the event ranged from a Fox News anchor to an assistant professor of the addiction program at PHSC, to a mother who spoke about the heartbreak she experienced after losing her son.
The evening concluded with a beautiful candlelight vigil, where participants lit each other's candles and stood in solidarity against the drug epidemic. "Seeing all those people in our community affected by addiction was both sad and powerful," said Jason Good, Narconon Suncoast's director of community relations. "As a recovered addict, I will always hold a candle for those who've become an unfortunate statistic of drug abuse."
Narconon Suncoast is proud to provide drug education and rehabilitation services to the local communities of Pasco and Pinellas counties. Narconon Suncoast is a non-12 step, holistic, long-term drug rehabilitation program located in Clearwater, Florida. For over half a century, Narconon has helped those once thought lost to drug abuse to regain their lives and become happy, productive members of society.
For more information, visit www.narconon-suncoast.org or call 877-841-5509.
Press Release Service by
Newswire.com
Original Source:
Narconon Suncoast Supports Overdose Prevention and Education at Pasco County Candlelight Vigil