Narconon Suncoast participated in USF's Veteran's Expo in St. Petersburg last Friday. The rehab program rolled out it's new Healthy Veterans program to make drug rehabilitation and education resources available to combat vets struggling with substance abuse issues.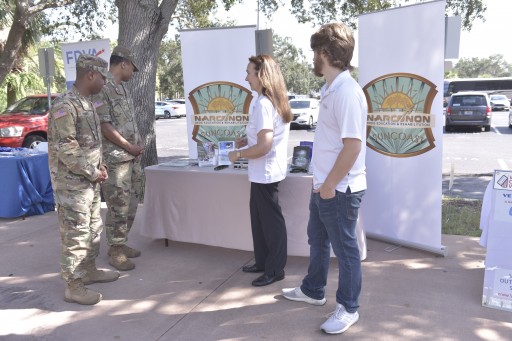 ST. PETERSBURG, Fla. - November 13, 2018 - (
Newswire.com
)
Over 300 veterans, family, students, and local officials gathered to kick off the Veterans Expo at the St. Petersburg USF Campus on Friday. The event included a special tribute to the 187th Assault Helicopter Division, whose members had traveled to St. Petersburg to participate in the Tampa Bay Veterans Day celebrations.
Narconon Suncoast's community awareness team were there to launch their Healthy Veterans Program that includes prescription drug safety, addiction prevention, and recovery support services available to all veterans and their families. This latest campaign focuses on preventing opiate addiction, overdose prevention awareness, and strategic recovery care for those who have served in the military. More than a hundred veterans and their families visited the Narconon booth to obtain the latest information on preventing addiction and helping someone who may have already fallen into the trap of drug or alcohol dependence.
Known for its above average, long-term success rates, the Narconon Program is a drug-free model that does not use replacement medications to end addictions, but rather an evidence-based holistic detox protocol recently studied by the Department of Defense.
Narconon Suncoast is a 32-bed, long-term residential addiction treatment program that averages 90-100 days of treatment and includes two years of graduate follow-up. The program not only focuses on the physical aspects of addiction with its revolutionary sauna-detox methods it also uses a cutting-edge life skills program to discover the underlying conditions that had the person continually turn to drugs and alcohol as a solution. 
"I had gone to 6 other treatment programs before I did Narconon," said Marine Corp Vet  D.J. "Nothing I'd done previously for my combat trauma ever allowed me to confront it and let it go, so that it no longer negatively affected my daily life. Anyone who has combat experience knows post-traumatic stress is one of the biggest reasons for alcoholism and addiction amongst us Vets. Narconon had me address it in such a way that it no longer runs my life and will not force me to an early grave.  That's huge for me and my family."
Those Veterans who may be losing someone to addiction or would like more information on the Narconon Healthy Veterans Program should contact Narconon Suncoast directly at (727) 304-4176. 
Press Release Service by
Newswire.com
Original Source:
Narconon Suncoast Launches Healthy Veterans Program at USF Veterans Expo