CheckPeople is proud to announce the launch of their new, online People Search Directory. More information can be found at https://www.checkpeople.com
(PRUnderground) June 18th, 2019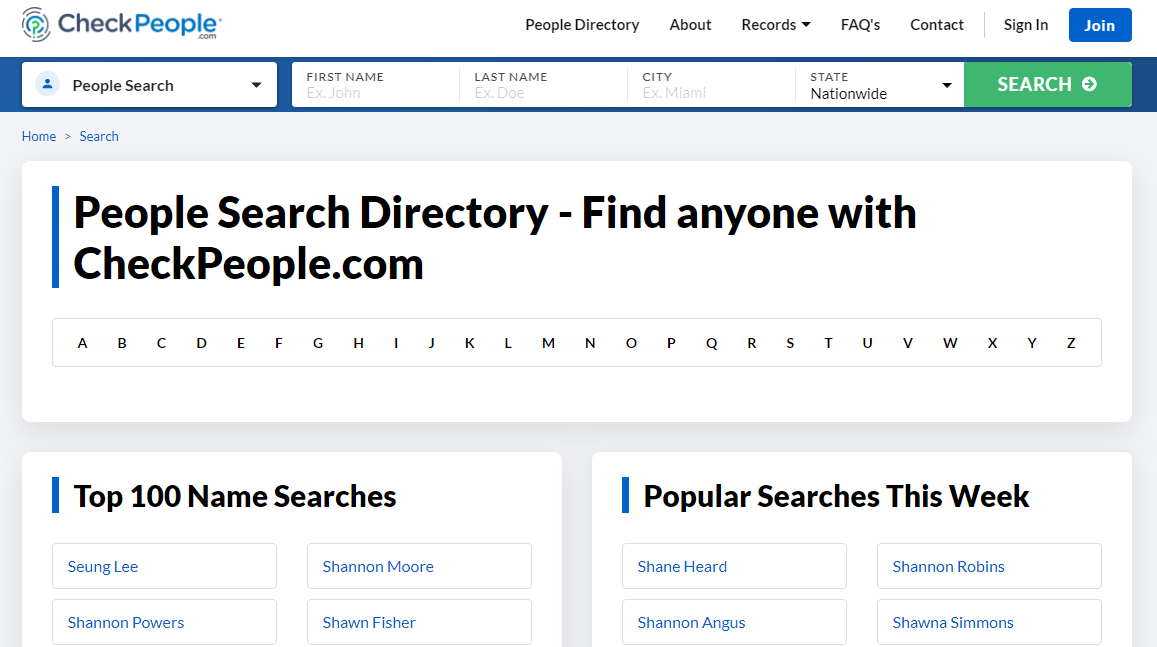 CheckPeople.com is proud to announce the launch of their new, online People Search Directory.
The new People Search Directory research tool pulls from 600+ million records to create the ultimate, interactive people search experience.
The CheckPeople Directory already has over 4+ million records online with more to follow in the coming months. The People Search Directory includes pages for every city and state in the United States.
CheckPeople.com users can search records for common names…or any name!
The Directory's page at https://www.checkpeople.com/search includes popular name searches for this week, the last month as well as for the top 100 name searches of all time.
Clicking on any name will show you a full list of all Americans with that name, along with their associated info. You can view all records, or filter the name results by state and generate reports for anyone of interest.
CheckPeople.com can help you track down old friends, relatives and classmates. Our people search directory will show you associates and relatives for each listing. Our users use the criminal record background search to check out potential housemates, verify buyers and sellers and transactions, perform reverse phone number lookups and more. Parents-to-be can even use the people search directory to research potential baby names!
CheckPeople consolidates all of these records into one easy-to-use service and makes sure all records are constantly updated and accurate.
About CheckPeople
CheckPeople.com is the leader in online background and people search services. For 19 years, CheckPeople.com has been offering email address and phone number lookup, social media data, contact info and more. CheckPeople's people finder can also utilize public information like criminal and civil records, bankruptcies, liens, lawsuits, arrest and traffic reports and more.
Many people lookup services are unreliable and seldom deliver reliable, accurate results. CheckPeople is different. We believe that everyone has the right to be able to access public records quickly and easily. You shouldn't have to waste time searching through phone books, going to courthouses, or doing endless internet searches anymore.
That's why we created this comprehensive, easy-to-use platform. We can help you find anyone with our people search tool.
Visit CheckPeople.com for your background check, people search and reverse phone number lookup needs. Make an informed decision today with CheckPeople.com.
CheckPeople
530 Lytton Ave #2, Palo Alto, CA 94301, United States
Press Contact
Name: CheckPeople

Phone: +1-800-267-2122

Email: support@checkpeople.com

Website: https://www.checkpeople.com/
Original Press Release.