Are Quantitative Strategies More Effective in Emerging Markets?
July 23, 2019 at 11:21 AM EDT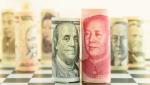 Based on Morningstar data, the majority of smart beta exchange-traded funds (ETFs) have 10 times more exposure to developed markets versus emerging markets. However, that's not to say it's because smart beta strategies like those utilizing quantitative methodologies are less effective...