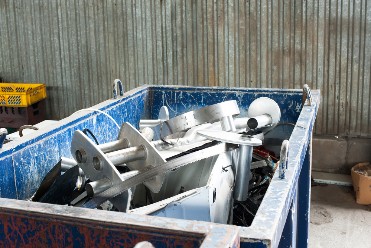 POMPANO BEACH, Fla. - September 3, 2019 - (
Newswire.com
)
Home and business owners in need of South Florida dumpster rentals are in luck: 411Junk, an industry leader in junk removal, has recently expanded their services to include dumpster rental—Miami, Broward, Palm Beach and anywhere else within 411Junk's service area.
411Junk offers both residential and commercial removal services that help customers get their junk and debris taken care of fast. Dumpsters provide both time- and cost-efficiency, being significantly easier to load and transport than cars and trucks.
The new dumpsters, an addition to 411Junk's existing fleet of trash removal vehicles, are available in three convenient sizes: 20 cubic yards, 22.5 cubic yards, and 25 cubic yards. The largest size dumpster is ideal for home and garage cleanups and cleanouts, with additional room for flooring, roofing, and carpet. Those who are looking for a dumpster rental—Broward County, Miami-Dade County or Palm Beach County—are encouraged to contact 411Junk if in need of assistance selecting the correct size for their needs.
How it works: Dumpster rental from 411Junk is easy. Order a dumpster, set a drop off date and load the dumpster with whatever you want (find the list of items that 411Junk cannot take here). When ready, 411Junk will come pick up the dumpster and properly dispose of the items inside. It's an efficient debris removal service that everyone can rely on, from home renovators to commercial developers.
Service Areas
411Junk is proud to service a wide range of communities throughout South Florida. From Miami-Dade to Palm Beach, dumpster rental services from 411Junk are a quick and environmentally efficient way to get rid of junk once and for all.
Don't just trust 411Junk's customers when they say they're the best in the business — find out firsthand. From dumpster rentals to more traditional junk removal services, 411Junk offers end-to-end services that take the hard work out of taking care of all that junk. Get in touch with 411Junk today for a consultation on dumpster rentals or junk removal and take that first step toward finally being junk-free at your home or business.
For more information, visit www.411junk.com.
Contact:
411Junk
(561) 289-4142
(855) 411-JUNK (5865)
Standard business hours: Monday-Friday 7am-7pm; Saturday 8am-6pm, Sunday appointments available upon request
Related Links
Our Service List
Contact Us
Press Release Service by
Newswire.com
Original Source:
411Junk Expands Services Into South Florida Dumpster Rentals