The Serrano Chili Pizza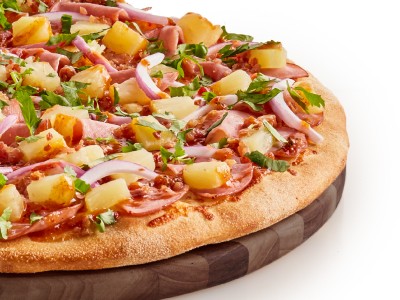 SACRAMENTO, Calif. - September 5, 2019 - (
Newswire.com
)
Pizza Guys unveiled their newest pizza, the Serrano Chili Pizza, featuring Kogi L.A. Street Sauce.
The pizza includes freshly grated Mozzarella Cheese, thinly sliced Canadian Bacon, Applewood Smoked Bacon, juicy Dole® Pineapple Chunks and sliced Red Onions. It then gets topped with fresh Cilantro and drizzled with the famous Kogi Serrano Chili Sauce. The Serrano Chili Sauce is a recipe from Chef Roy Choi's Kogi L.A. Street Sauces, which feature sweet, spicy and bold flavors, taking taste buds to the next level. 
Chef Roy Choi is no stranger to the food scene and recently starred in a Netflix series called "The Chef Show." He has also appeared on "Ugly Delicious," "Top Chef" (as a judge), and starred in a new KCET series called "Broken Bread." Chef Choi is famously known for starting the food truck revolution in 2008 by launching the Kogi Taco truck in Southern California. He brought the flavors of Korean BBQ and infused them with Mexican flavors. After experiencing success with his unique flavors, Chef Choi launched Kogi L.A. Street Sauces.
"The bold flavors of my Kogi Serrano Chili Sauce, mixed with Pizza Guys' time-tested recipes, are going to take everyone's taste buds to the next level," said Chef Roy Choi. 
The new Serrano Chili Pizza is now available at all franchise locations. 
Pizza Guys has over 65+ locations across the West Coast, with available locations in California, Nevada and Oregon.  
About Pizza Guys Franchise, Inc. 
Pizza Guys was started in 1986 by Shahpour Nejad and Reza Kalantari. Their goal was to create a pizza dedicated to quality and value while combining the fresh California flavor. They started franchising Pizza Guys in 1994. The company currently has more than 60 locations throughout California, Nevada and Oregon. You can learn more about Pizza Guys at www.pizzaguys.com. 
Join our E-club or follow our Instagram and Facebook for special discounts and exclusive offers you won't find anywhere else.
Related Links
Website
Instagram
Related Files
Pizza-Guys-Footer-Logo@2x.png
Related Images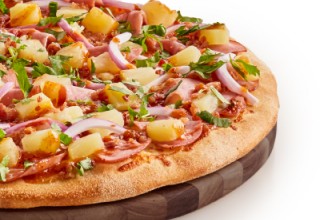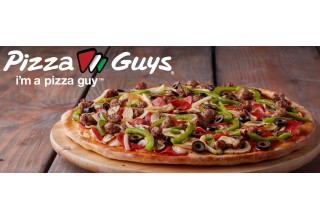 Press Release Service by
Newswire.com
Original Source:
Pizza Guys Collaborates With Kogi L.A. Street Sauce and Creates a One-of-a-Kind Pizza