The Autumn Moon skincare collection draws on Eastern medical concepts and crystal energies and is expected to sell out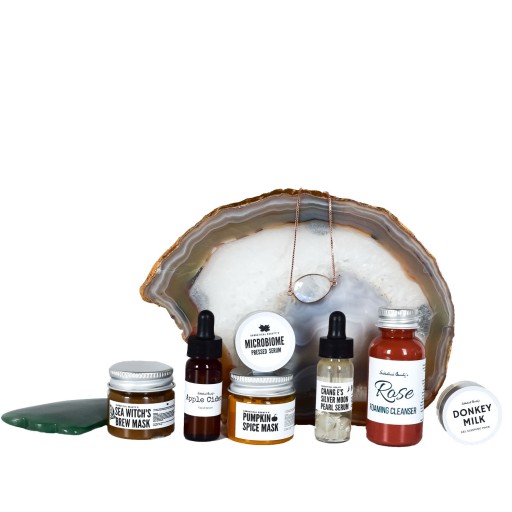 PHILADELPHIA - September 13, 2019 - (
Newswire.com
)
​​​Sabbatical Beauty, an independent, Korean-influenced beauty company, announces the drop of its Autumn Moon collection. The Autumn Moon skincare collection draws on Traditional Chinese Medicine concepts to achieve calm and glowing skin in the transition from Summer to Fall. It is expected to sell out. 
Drawing on increasing consumer interest in Korean beauty in the mainstream skincare market, Sabbatical Beauty presents its first foray into Traditional Chinese Medicine principles in designing an Autumn skincare routine for the majority of skin types. Expect calmed skin, reduced irritation and inflammation and improved mood while using the individual elements from this collection. 
This brand new collection features rarely seen, but instrumental, ingredients to the beauty space. The Chang E's Silver Moon Pearl Serum has been formulated with two types of silver: colloidal silver as a base and 99% silver flake, both which help reduce inflammation (diminishing redness and irritation). It also contains three types of pearl extracts, as pearl has been used by the Chinese for centuries to brighten skin and to encourage its pearlescence. It also contains tiny moonstone crystals in it, to encourage a deep connection to a nourishing, deeply feminine energy represented by the stone. The Chang E serum also contains PHAs (more suited for sensitive skin than common acid exfoliants AHAs and BHAs) to ensure deeper, yet gentle, ingredient penetration. Chang E is named after the Chinese Moon goddess, a beautiful woman who lives on the moon with her companion rabbit.
The Autumn Moon collection also features new microbiological developments in dermatology. The Microbiome Pressed Serum is a multitasking "pressed serum" (a Korean beauty product that combines both a serum and moisturizer). It is formulated with beta-glucan, a polysaccharide that the good bacteria on skin needs to use as food (a prebiotic), as well as numerous probiotic (fermented) ingredients, including fermented resveratrol (the active antixoxidant ingredient in red wine), yeast (antioxidant, also another provider of beta glucan), fermented yogurt and fermented cocoa. Testers have reported that this pressed serum has greatly improved hormonal acne. 
Finally, the Autumn Moon collection contains a Green Aventurine crystal in the form of a guasha skincare tool in the box. Green aventurine was chosen as a specific crystal, as it is the stone of luck, abundance and happiness. Paired with the box's contents, the gua sha can be used to amplify the effects of the skincare in the box via the benefits of facial massage. Gua shas are tools used in traditional Chinese face massage to firm, lift and tone through lymphatic massage and drainage. 
By drawing together principles of millennia-old, traditional Chinese medicine and new developments in microbiology, the Autumn Moon skincare box is expected to be extremely popular in a consumer market primed for Asian skincare. More about the Autumn Moon box: https://sabbaticalbeauty.com/blogs/blog/autumn-moon.
Related Links
Sabbatical Beauty
Autumn Moon Box
Press Release Service by
Newswire.com
Original Source:
Sabbatical Beauty Releases Limited Edition Skincare Box Influenced by Traditional Chinese Medicine