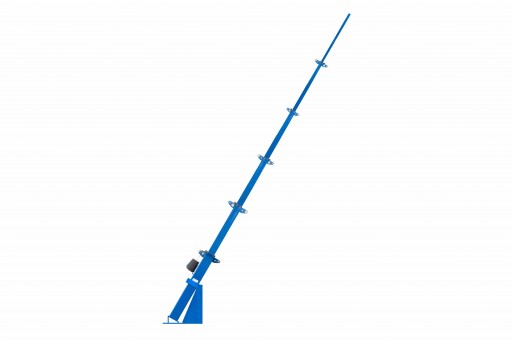 KEMP, Texas - December 8, 2019 - (
Newswire.com
)
Larson Electronics, a Texas-based company with over 40 years of experience spearheading the industrial lighting and equipment sectors, announced the release of a six-stage fixed mount angled light mast that offers a 50lb payload and a 2,500lb electric winch for elevating the mast. This light mast is equipped with a fixed mount base and can be collapsed to 7.5 feet and extended to 26 feet. This unit extends at a 60-degree angle and is ideal for temporary lights and cameras.
The LM-26-7.5-6S-EW-FM-60DEG fixed mount angled light mast features a NEMA 3R control box mounted at the base of the mast to house the power controls. This unit is made of durable square steel tubing with a base section measuring 5.54' long by 8" by 8" by 1/4" thick, the second stage measuring 5.81' long by 7" by 7" by 1/4" thick, the third stage measuring 6.08' long by 5" by 5" by 3/16" thick, the fourth stage measuring 6.35' long by 4" by 4" by 1/8" thick, the fifth stage measuring 6.63' long by 3" by 3" by 1/8" thick, and the sixth stage measuring 7.04' long by 2" by 2" by 1/8" thick with a 12" overlap in each section.
Larson Electronics' six-stage fixed mount light mast features a mast guidance system for increased stability during high winds and a 2,500lb electric winch with a 3/16" galvanized steel cable for elevating and lowering the mast. This fixed-mount unit can be mounted to any flat surface and sits at a 60-degree angle when fully elevated. Suitable applications include security cameras, temporary lighting, and more.
About Larson Electronics LLC: Larson Electronics LLC is a manufacturer of industrial lighting equipment and accessories. The company offers an extensive catalog of industry-grade lighting and power distribution products for the following sectors: manufacturing, construction, food processing, oil and gas, military, marine and automobile. Customers can benefit from the company's hands-on, customized approach to lighting solutions. Larson Electronics provides expedited service for quotes, customer support and shipments.
Related Files
LM-26-7.5-6S-EW-FM-60DEG spec sheet.PDF
Press Release Service by
Newswire.com
Original Source:
Larson Electronics Releases 26' 6-Stage Fixed Mount Angled Light Mast, 2,500lb Electric Winch