All-natural CBD skincare line available at CBD Beauty Corner within globally recognized luxury retailer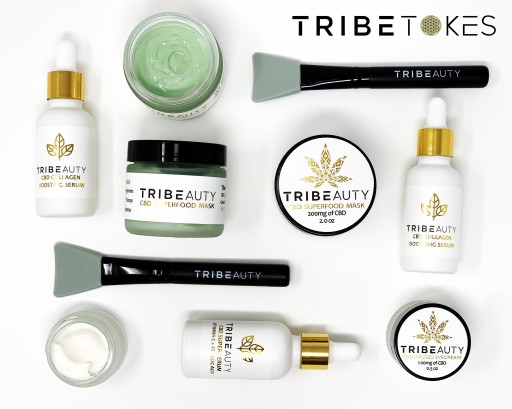 NEW YORK - March 3, 2020 - (
Newswire.com
)
​​​​​​TribeTokes, an emerging brand retailing the highest quality CBD lifestyle accessories, announces today its partnership to bring their proprietary skincare line, TRIBEAUTY, to the CBD Beauty Corner at Joel Warren's Salon Project located on the 7th floor of Saks Fifth Avenue Flagship in NYC. 
Co-founded in 2015 by Investor and Serial Entrepreneur Degelis "Dege" Tufts and Influencer and Advocate Kymberly "KymB" Byrnes, TribeTokes is a producer of premium CBD wellness products with an elevated aesthetic for consumers who respect plant science and expect premium quality from trusted brands. Debuted in 2019 with the same commitment, TRIBEAUTY is a complete skincare line that harnesses the power of CBD and plant botanicals to create naturally radiant complexions. 
From the beginning, TribeTokes has streamlined the consumer CBD market by offering luxury products at affordable prices. Made with an obsessive attention to organic, natural ingredients, TRIBEAUTY follows those footsteps to set the precedent for clean CBD beauty. 
The TRIBEAUTY line currently offers five beautifully packaged products including a CBD Eye Cream, CBD Superfood Mask, CBD Collagen Boosting Serum, CBD Vitamin C + Ferulic Acid Super Serum and a 1000 mg CBD Pain Relief Cream. Created by women, each product in the TRIBEAUTY collection contains all-natural ingredients that rejuvenate, protect and invigorate. 
"From industry advocates, consumers and editors alike, our TRIBEAUTY line has received praise for being entirely powered by plants and our no-nonsense approach to quality ingredients," says TribeTokes Co-founder and CEO Degelis Tufts. "We've spent months researching, formulating and testing this line to create something we're proud to serve our customers. We are honored with the opportunity to showcase among such industry-leading brands within the CBD Beauty Corner at The Salon Project." 
The CBD Beauty Corner has selected TribeTokes' TRIBEAUTY collection to be featured within their highly curated CBD wellness 'shop in shop' collective at The Salon Project by famed beauty expert Joel Warren. 
"TRIBEAUTY is where clean beauty meets CBD and is designed to improve how people feel through a more vibrant complexion, achieved without using chemicals or harmful additives. This partnership allows us to serve a wider base who can benefit from the line," comments TribeTokes Co-founder and Chief Marketing Officer, Kym Byrnes, "By working alongside the CBD Beauty Corner in The Salon Project, we will reach a new customer who wants to invest in quality, natural and effective beauty care and we couldn't be more thrilled for the partnership."
TRIBEAUTY is available starting March 1 at the CBD Beauty Corner within The Salon Project by Joel Warren located on the 7th floor of Saks Fifth Avenue Flagship in NYC.
Press Contact: Melissa A Vitale | info@melissaavitale.com 
Press Release Service by
Newswire.com
Original Source:
Women-Led TribeTokes Now Retailing Proprietary Skincare Line, TRIBEAUTY, at CBD Beauty Corner Within the Salon Project by Joel Warren