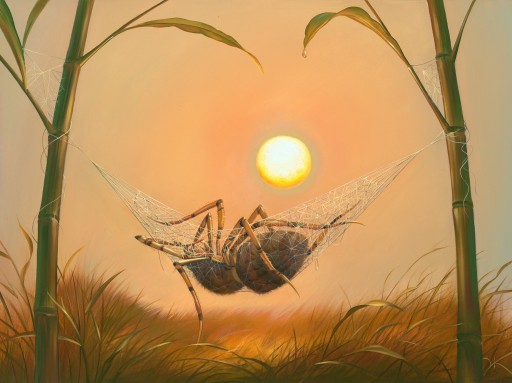 LAS VEGAS - March 30, 2020 - (
Newswire.com
)
Vladimir Kush and Kush Fine Art present his new release: "In a Web of Bliss" Original Oil on Canvas (12" x 16") & Limited Edition on Metal (11.25" x 15") Edition 100.
We are all used to the image of a spider lying in wait for the next victim somewhere in the corner of his network-web. Imagine now a mellow sated one, more likely to be nodding off in a blissful repose than engaging in the drama of hunting for the flies: look at him enjoying the sunset, putting his feet up comfortably in a hammock of a web over which he toiled during the day – an idyll! Compare this painting to an earlier work by the artist – the Shine of Gold, where the spider's web is woven with the threads of human fate. 
Note also that "world wide web" is a symbolic reference to the internet – a network encompassing every aspect of human knowledge.
Kush's style of Metaphorical Realism is an evolution of this thought process. His paintings are inspiring young artists and appealing to professional writers and musicians, who incorporate his images on the covers of their releases and books. Kush says, "I steadfastly believe that what I do is not only a style of painting, but also something much larger, quite universal, and profoundly human. In the age of technology and aspirations of artificial intelligence, the eureka moment of metaphor remains inaccessible to the machine. It helps us uphold and defend our humanity."
Kush is one of very few artists in the world to have three galleries of his own, showcasing only his artwork, including paintings, bronze and silver sculptures and jewelry. Kush Fine Art Galleries are located in Las Vegas, Maui and Laguna Beach. Visit his website at www.vladimirkush.com or contact at info@vladimirkush.com. For the latest news and artwork, follow him on Instagram, Twitter and Facebook.
Related Links
website
Press Release Service by
Newswire.com
Original Source:
Vladimir Kush Presents his New Release 'In a Web of Bliss'