The data includes responses from 84 schools on efforts around LGBTQ+ diversity and inclusion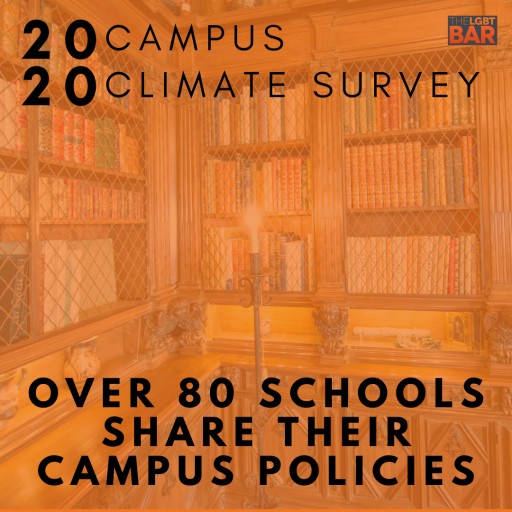 WASHINGTON - May 28, 2020 - (
Newswire.com
)
​The National LGBT Bar Association is pleased to release the Annual Law School Campus Climate Survey data, reflecting law school responses for the 2019-2020 school year. This extensive survey asked law schools 28 questions from eight different categories relevant to LGBTQ+ law students, faculty, and staff, with subjects ranging from employee and student benefits to self-identification in terms of sexual orientation and/or gender identity.
Eighty-four law schools responded to the survey, representing a more than 23% increase from last year. All schools self-reported voluntarily, indicating their contribution to LGBTQ+ awareness in law schools by being transparent to their own community as well as to students who are choosing which school they hope to attend.
"The LGBT Bar is committed to equality and inclusion in all facets of the legal profession, and law schools are the bedrock of the practice of law," said D'Arcy Kemnitz, Executive Director of The National LGBT Bar Association. "It is inspiring to see so many schools supporting LGBTQ+ law students by providing the facts about inclusion efforts on their campuses, and to see the progress schools continue to make."
"Our Law School Campus Climate Survey not only equips law students with the information they need to understand their law school environment, it also paints a picture of the efforts law schools across the nation are placing on LGBTQ+ diversity and inclusion," said Judi O'Kelley, Chief Program Officer, The National LGBT Bar Association. "Accurate information is the first step in effecting positive change."
The National LGBT Bar Association also released a toolkit informed by the needs and wants of LGBTQ+ law students and faculty, as well as the survey data. The toolkit is designed to provide strategies to help support LGBTQ+ law school community members. The Lavender Law 365® LGBTQ+ inclusion coaching and consulting program has also been designed specifically to enable the implementation of best-practice standards for LGBTQ+ equity across law schools as well as firms and companies. 
"The toolkit uses the data to help law schools build a better tomorrow," said O'Kelley. 
Results from the Campus Climate Survey and the Toolkit are available on the LGBT Bar's website at https://lgbtbar.org/climate-survey/climate-survey-2020/.
About the Campus Climate Survey
In November of 2019, The National LGBT Bar Association and Foundation invited all ABA-accredited law schools in the United States to participate in The National LGBT Bar Association's second annual Law School Campus Climate Survey. This survey was designed to identify policies and procedures that specifically impact the schools' LGBTQ+ population. To learn more or request that your school participate next year, contact the LGBT Bar at lawschools@lgbtbar.org. 
Related Links
Campus Climate Survey and Toolkit
Press Release Service by
Newswire.com
Original Source:
The National LGBT Bar Association Releases 2020 Law School Campus Climate Survey Data and Toolkit