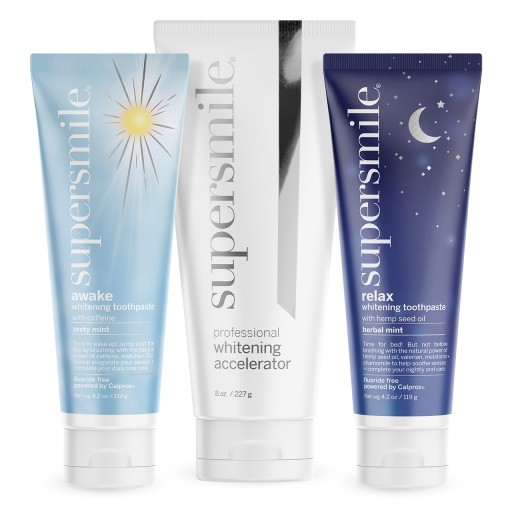 NEW YORK - July 6, 2020 - (
Newswire.com
)
​Supersmile® again disrupts the teeth whitening game with major wellness benefits. The roll-out of Awake whitening toothpaste with caffeine, matcha and other invigorating ingredients and Relax Whitening toothpaste with hemp seed oil, melatonin and other calming essentials is the first ever in this field.
Awake whitening toothpaste contains caffeine, matcha, vitamin B12 and other ingredients known to have safe awakening and energizing effects.  
Relax Whitening toothpaste with hemp seed oil, melatonin, valerian and chamomile combine these soothing ingredients known for their calming effects.  
Supersmile®, the only teeth whitening brand with the unique Calprox®, has a 40-year history of innovation. Its pre-rinse, a rinse used before brushing your teeth, is one of their cult-favorite top sellers. Its proprietary Calprox® whitening technology whitens teeth uniquely by gently dissolving the protein layer that stains and plaque adhere to.  
Both Awake and Relax contain Calprox®. The whitening effects and the additional health benefits are to be used in the morning and evening and follow the American Dental Association's (ADA) recommended of brushing teeth at least twice a day for two minutes. Supersmile's foray into wellness of this nature is the first for the growing luxury oral care market.
Bellanca Smigel-Rutter, Supersmile's president says that wellness has always been part of the brand's DNA. "Oral care is a critical part of a healthy lifestyle. Awake and Relax fit into everyone's daily routine and make you feel better just by brushing!" CEO Lucia Smigel offers that she tries every product herself that comes to market. "Nothing comes to market that isn't clinically tested and most importantly test by me. So I know it works." 
Awake and Relax launches July 4th weekend on Supersmile.com and at Ulta stores nationwide beginning in the month of July. Learn more here.
About Supersmile
Supersmile® was created and made famous by Irwin Smigel DDS, considered "The father of Aesthetic Dentistry" for his ground-breaking use of teeth bonding which forever changed dentistry. He appeared on numerous televise shows and lectured throughout the world and taught modern-day cosmetic dentistry.  Supersmile® is a privately held, family-run business making and marketing oral care products that are sold globally through dentist offices, pharmacies, third party retailers and direct to consumer. Calprox® is a registered trademark and is used and marketed exclusively by Supersmile® and select licensed partners. 
Founded in 1987, Supersmile® is headquartered in New York. For more information, visit supersmile.com.
Media Contact: David Llewellyn @ DL@supersmile.com
Related Links
Website
Product launch page
Related Files
1-Trio-Awake-Relax-Whitening-System.png
Press Release Service by
Newswire.com
Original Source:
Supersmile® Again Disrupts the Teeth Whitening Game With Major Wellness Benefits