Photo by Adam Nieścioruk
Originally Posted On: https://www.alternativetomeds.com/medication-withdrawal/
Whether you are currently dependent on ADHD medications, antidepressants, antipsychotics, benzodiazepines, pain meds, or other prescription drugs, Alternative to Meds Center offers a unique treatment for prescription medication withdrawal. As our name implies, this is what we do and have been doing for more than 15 years.
You Are More Than a Diagnosis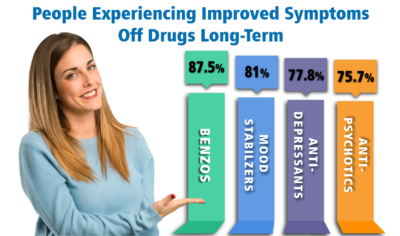 Medication withdrawal for ATMC is not some additional tack-on that we wrap into a drug rehab program…..It is the core of what we do. And, our documented success proves it. Many of the staff have overcome similar life challenges which is why they have aligned to this particular mission.
Individualized, Holistic Residential Treatment for Prescription Medication Withdrawal
At ATMC, we are not a "one-size-fits-all" medication dependence and addiction treatment program. Our goal is to see each resident for the unique individual you are, assess your needs using lab testing and other proven diagnostic tools, and to find the root causes of your symptoms.
The better we understand you as an individual, the better we can help your unique situation and needs.
Our approach to the treatment of prescription drug dependence and medication withdrawal starts with assessment, and begins with medically supervised medication tapering. Our doctor works with you to select a tapering schedule that is comfortable and meets your individual needs, and all decisions on treatment are made with YOU as an integral part of the decision making process. Ultimately, our goal is to empower and educate our guests in their own recovery, as well as to provide them with the recovery tools they need to make healthy and informed decisions about their own health and well-being.
Antidepressant Withdrawal
Antidepressant medications such as Celexa, Cymbalta, Effexor, Prozac, Wellbutrin, and Zoloft are used to treat a host of mental health conditions. Severe and chronic depression, anxiety and persistent panic attacks, bipolar disorder, and other conditions are commonly treated with medications that can alter brain function and in many cases can leave them dependent on the medications while experiencing worsening symptoms. By utilizing lab testing and diagnostic tools, Alternative to Meds Center discovers the root causes of these mental health conditions and treats those causes holistically, and using integrative techniques.
Learn More about Treating Antidepressant Withdrawal
Antipsychotic Withdrawal
Both typical (First Generation) and atypical (Later Generation) antipsychotics are used to treat numerous mental health concerns including psychosis, schizophrenia, and many other conditions. The drugs come with a host of their own symptoms and side effects, and balancing the benefits of antipsychotic medications with the negatives can be a chore for physicians. Antipsychotics can create such a potent neuroadaptation in the brain, it can often become difficult to discern which are the symptoms versus results of the drug. For some individuals, tapering off their antipsychotic medications and utilizing natural alternatives to antipsychotic medications may offer the best benefit.
Learn More about Treating Antipsychotic Withdrawal
Benzodiazepine Withdrawal
Benzodiazepines are commonly prescribed for a number of conditions including epilepsy (and as an anticonvulsant for many seizure disorders), depression, anxiety disorders, and panic disorders. However, this class of drugs is used quite liberally, even though benzodiazepine addiction and dependence can be quite severe. We treat benzodiazepine addiction with great care, helping individuals to safely taper off their medications and find a natural alternative to benzodiazepine medications.
Learn More about Treating Benzodiazepine Withdrawal and Dependence
Opioid Withdrawal
Prescription painkillers containing opioids can be lifesaving medications in treating acute pain. However, the long term use of opioid medications has proven to be a very complicated and dangerous matter. Between the severities of opioid dependence, opioid withdrawal symptoms, and the exploding heroin epidemic in the United States, finding alternative ways to manage chronic pain has never been so important. At Alternative to Meds Center, we help you to find an alternative to opioid medications that preserves your quality of life.
Learn More about Treating Opioid Withdrawal and Painkiller Dependence
ADHD Medication Withdrawal
The current standard medical practice for treating children and adults with Attention Deficit Disorder (ADD), and Attention Deficit Hyperactive Disorder (ADHD) is through pharmacotherapy using prescription stimulant drugs such as Adderall, Concerta, Desoxyn, Ritalin, and Vyvanse. These drugs are not only addictive, but can cause a number of withdrawal symptoms that quit abruptly. At Alternative to Meds Center, we help to treat the symptoms of prescription stimulant withdrawal while working towards a way to treat your underlying symptoms with natural alternatives.
Learn More About ADHD Medication Withdrawal
Holistic Treatment for Prescription Medication Dependence and Addiction
There are a great number of factors that play into the complicated situation of dependence or addiction to prescription medications. For many, simply stopping the medications without additional biophysical and psychological support is unreasonable. Yet, when this support is provided by our methods, the transition can be comparatively uncomplicated.
The natural balance of an individual's neurochemistry, nutritional factors, psychological state, and even environmental factors such as toxins and heavy metals in the body can cause a number of underlying mental and physical health symptoms. These poisons or deficiencies most certainly have very demonstrable effects on the way we think and feel. By addressing these biophysical and psychological factors, we help to restore balance to the body and brain naturally and reduce medication dosages slowly to find a healthy balance.
What sets us apart from other treatment programs is that we do not shame our guests or identify them as being hopelessly broken outcasts suffering from some mere mental or spiritual malady. While there are, certainly, mental and even spiritual dimensions to the situation that need to be and are attended to at ATMC, we additionally deeply take into account the biophysical reasons why a person is suffering and is using medications for relief. Alternative to Meds uses a holistic and individualized approach in our methodology to address these physical, psychological and, at times, spiritual underpinnings. Treatment for prescription medication dependence and addiction at ATMC is holistic and is thorough. Our guests play an integral role in their own recovery from prescription drug dependence, working with our doctors to design and implement their protocol for medication reduction at a rate that they feel comfortable with.
It has been our blessing to witness the transformations in people that were formerly considered impossible; and for some, outcasts from other treatment centers or hospitals. Our guests who have been educated on how biophysical factors impact neurochemical balance and physical and mental well-being and have experienced that sense of relief within our environment, naturally embrace the lifestyle changes that will maintain it.