One of the reasons biotech stocks can be your portfolio's biggest winners is because of the massive profits companies see after releasing a blockbuster drug - especially with the exorbitantly high prices of this year's new treatments...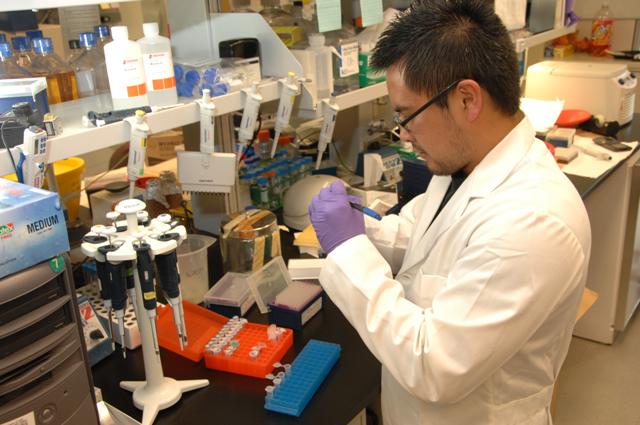 Earlier this year, Gilead Sciences Inc. (NYSE: GILD) drew attention to sky-high drug prices when it launched its $84,000 hepatitis C treatment. But Gilead's roughly $1,000-per-pill drug looks like a bargain compared to two new just-approved treatments.
Merck & Co. Inc. (NYSE: MRK) got the go-ahead from U.S. regulators on Sept. 4 for a new kind of cancer drug aimed at releasing the body's immune system to combat tumors. The drug carries a hefty price of $12,500 monthly for the average patient, or $150,000 for a year's worth of treatment.
In addition, the first of a promising class of new cancer drugs from Bristol-Meyers Squibb Co. (NYSE: BMY) and Tokyo-based Ono Pharmaceuticals Co. hit the market in Japan in early September at an average annual cost per patient of $143,000.
These staggering figures are only going to get bigger in coming years. There are no price controls on new medicines in the United States, unlike in Europe and other countries.
And according to Money Morning Bioscience Investment Specialist Ernie Tremblay, investors can expect growth in U.S. Food and Drug Administration (FDA) drug approvals plus strong growth in prescription drug sales.
Here are a closer look at the priciest drugs - and the biotech stocks behind them...
Three Biotech Stocks Getting a Boost from Pricey Drugs
Gilead's hepatitis C treatment Sovaldi ignited this year's debate about over-the-top costs for game-changing drugs.
Sovaldi is the first in a new class of all-oral therapies for the contagious liver disease hepatitis C, which affects roughly 3.2 million people in the United States - although the number is likely much higher.
Most people don't know they are infected with the disease, which ranges in severity from a mild illness lasting a few weeks to a serious lifelong illness. Approximately 75% to 80% of people who become infected develop a chronic infection.
Sovaldi has demonstrated an ability to cure more than 90% of patients in as little as 12 weeks with few side effects. Prior to Sovaldi's approval, hepatitis C treatments took 24 to 48 weeks, cured maybe 75% of patients, and involved a number of pills, as well as injectable interferon that caused side effects, prompting many people to avoid or discontinue treatment.
Despite Sovaldi's impressive patient track record, insurers and others have balked at its $1,000-per-pill and $84,000 total treatment cost.
But Gilead defends the hefty cost.
"While Sovaldi greatly enhances the standard of care for hepatitis C, it was priced such that the total regimen cost is equal to that of prior standard of care regimens," the company said in a statement.
In its first full quarter on the market, Sovaldi booked more than $2 billion in sales, handily eclipsing previous pharmaceutical records.
Bristol-Meyers Squibb and Ono Pharma's drug Opdivo went on sale in Japan in early September, with an annual cost per patient of $143,000.
Opdivo (generic name, nivolumab) is a new type of drug that harnesses the body's immune system to fight tumors, including advanced melanoma (skin cancer). Bristol-Meyers hopes to market it in the United States if the Food and Drug Administration (FDA) gives it the nod.
Bristol-Meyers didn't say how much it will charge for the drug in the United States, but Opdivo's price tag stateside could be sustainably higher. That's because prices for patented, brand-name drugs in Japan are typically 18% lower than in the United States, according to the U.S. Department of Commerce. Doctors are likely to prescribe the drug regardless of price.
In one clinical trial, patients with advanced melanoma treated with Opdivo had a median overall survival of nearly 17 months. Until a few years ago, most patients with advanced melanoma could be expected to live less than one year. About 62% of patients receiving Opdivo were still alive one year after starting treatment; 43% were still alive at two years.
Melanoma, the most serious and fastest-growing type of skin cancer, will account for more than 76,000 cases of skin cancer in 2014, according to Cancer.org.
Merck's new drug, pembrolizumab, also got the FDA's okay in early September and works in the same manner as BMY's Opdivo. It unleashes the body's immune system to combat tumors.
Pembrolizumab will be sold under the brand name Keytruda and carries a price tag of $12,500 a month for the average patient. A year's cost of treatment will run $150,000.
The first-of-its-kind drug to hit the U.S. market blocks a protein called programmed death receptor 1, or PD-1. It has been described as putting the brakes on certain immune system cells to prevent them from attacking healthy tissue.
Doctors are especially excited about Merck's new drug because they say PD-1 is shown to be active in other cancers besides melanoma, including bladder, renal, and lung cancers. So, pembrolizumab could be used to treat a plethora of cancers.
A number of analysts forecast total annual sales of cancer immunotherapies like those from MRK and BMY could hit some $32 billion over the next decade. Leerink Swann estimates Merck's novel drug could generate yearly sales of more than $6 billion by 2025.
More on Biotech Stocks: Also in development at Merck is a new drug for the treatment of Alzheimer's disease, a debilitating brain disease that currently afflicts more than 5.3 million Americans - and is expected to affect a full 20% of the U.S. population by the year 2050. Take a look at why Merck's new Alzheimer's drug could be the fastest route to a treatment breakthrough - and big gains for biotech stock investors...
Related Articles:
Tags:
$BMY
,
$GILD
,
$MRK
,
Best Biotech Stocks
,
best biotech stocks 2014
,
Bioscience Investing
,
biotech investing
,
biotech penny stocks
,
biotech stocks
,
biotech stocks 2014
,
biotech stocks to buy
,
biotech stocks to buy 2014
,
biotech stocks to watch
,
biotech stocks today
,
biotechnology penny stocks
,
BMY stock
,
GILD stock
,
invest in biotech stocks
,
MRK stock
The post These Biotech Stocks Are Tied to the World's Most Expensive New Drugs appeared first on Money Morning - Only the News You Can Profit From.