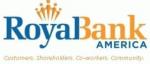 BALA CYNWYD, PA--(Marketwired - May 25, 2017) - Royal Bancshares of Pennsylvania, Inc. ("Royal") (NASDAQ: RBPAA), the holding company for Royal Bank America, announced that its shareholders approved its pending merger transaction with Bryn Mawr Bank Corporation (the "Corporation") at a special meeting of shareholders held on May 24, 2017. At the Special Meeting, 98.6% of votes cast were voted in favor of the merger.
"We were pleased to have such widespread approval from our shareholders for our strategic direction to merge with Bryn Mawr Trust," remarked President and CEO Kevin Tylus. As previously reported in required filings, a third quarter 2017 closing is anticipated, subject to receipt of required regulatory approvals and satisfaction of the remaining conditions set forth in the merger agreement.
About Royal Bancshares of Pennsylvania, Inc.
Royal Bancshares of Pennsylvania, Inc., headquartered in Bala Cynwyd, Pennsylvania, is the parent company of Royal Bank America, which is headquartered in Narberth, Pennsylvania. Royal Bank serves growing small and middle market businesses, commercial real estate investors, consumers, and depositors principally in Montgomery, Delaware, Chester, Bucks, Philadelphia and Berks counties in Pennsylvania, central and southern New Jersey, and Delaware. Established in 1963, Royal Bank provides an array of financial products and services through a comprehensive suite of cash management services and twelve branches and two loan production offices. More information on Royal Bancshares of Pennsylvania, Inc., Royal Bank America, and its subsidiaries can be found at www.royalbankamerica.com.
Forward-Looking Statements
The foregoing material may contain forward-looking statements. We caution that such statements may be subject to a number of uncertainties, and actual results could differ materially; therefore, readers should not place undue reliance on any forward-looking statements. Royal Bancshares of Pennsylvania, Inc. does not undertake, and specifically disclaims, any obligation to publicly release the results of any revisions that may be made to any forward-looking statements to reflect the occurrence of anticipated or unanticipated events or circumstances after the date of such statements. For a discussion of the factors that could cause actual results to differ from the results discussed in any such forward-looking statements, see the filings made by Royal Bancshares of Pennsylvania, Inc. with the Securities and Exchange Commission, including its Annual Report -- Form 10-K for the year ended December 31, 2016.
Such forward-looking statements involve known and unknown risks and uncertainties. A number of factors could cause actual results, events or developments, or industry results, to be materially different from any future results, events or developments expressed, implied or anticipated by such forward-looking statements, and so business and financial condition and results of operations could be materially and adversely affected. In addition to factors previously disclosed in the Corporation's and Royal's reports filed with the U.S. Securities and Exchange Commission (the "SEC") and those identified elsewhere in this document, such factors include, among others, that required regulatory, shareholder or other approvals are not obtained or other closing conditions are not satisfied in a timely manner or at all; that prior to the completion of the transaction or thereafter, the Corporation's and Royal's respective businesses may not perform as expected due to transaction-related uncertainty or other factors; that the parties are unable to successfully implement integration strategies; reputational risks and the reaction of the companies' customers to the transaction; diversion of management time on merger-related issues; the integration of acquired business with the Corporation may take longer than anticipated or be more costly to complete and that the anticipated benefits, including any anticipated cost savings or strategic gains may be significantly harder to achieve or take longer than anticipated or may not be achieved; the need for capital, ability to control operating costs and expenses, and to manage loan and lease delinquency rates; the credit risks of lending activities and overall quality of the composition of loan, lease and securities portfolio; the impact of economic conditions, consumer and business spending habits, and real estate market conditions ; changes in the levels of general interest rates, deposit interest rates, or net interest margin and funding sources; changes in banking regulations and policies; changes in accounting policies and practices; the inability of key third-party providers to perform their obligations to us; our ability to attract and retain key personnel; competition in our marketplace; war or terrorist activities. All forward-looking statements and information set forth herein are based on management's current beliefs and assumptions as of the date hereof and speak only as of the date they are made. The Corporation and Royal do not undertake to update forward-looking statements.