Will Clean Energy Initiatives Boost the Portuguese PGAL?
October 29, 2020 at 19:46 PM EDT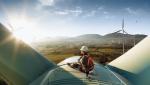 The push towards clean energy is no doubt becoming a worldwide phenomenon. In the country of Portugal, clean energy initiatives could help boost job creation and lower energy bills, according to a REVE article. "Renewable energy covered more than 50% of Portugal's electricity needs last...