Newly launched Gian Ferrente's washable four-layer anti-microbial copper-infused mask blocks fine particulate matter keeping everyone safe and comfortable for long periods.
(PRUnderground) December 6th, 2020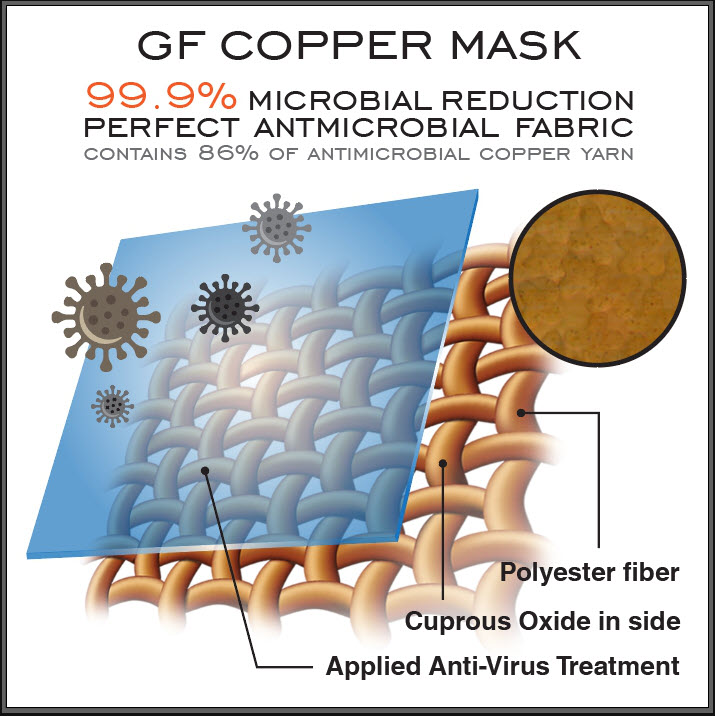 Months into the COVID-19 pandemic, wearing a cloth mask has become a wardrobe staple for everyone. The virus and bacteria are a threat to soft surfaces like fabric masks, and antimicrobial copper masks help eliminate cross-contamination. Copper has always been a strong material to explore when it comes to preventing the spread of infections because it has oligodynamic properties. Copper-infused fabrics are known to destroy 99.99% of bacteria, fungi, and viruses in minutes of contact. Copper fabrics are designed to be long-term sustainable and durable, meaning the copper ions molecularly bonded to the fabrics will not wash away and last the lifetime of the product.  Therefore no need to rely on disposable face masks again as these copper face masks are ideal for everyday life from supermarket trips through to commuting to work.
Established with a strong aspiration to be simply elegant, Gian Ferrente has been a leading manufacturer of high-quality leather goods since 1982. They have entered into the world of manufacturing quality face masks with the latest medical technologies. Gian Ferrente's black masks were a big hit on Amazon and were ranked as Amazon best face masks. They have newly launched their breathable water repellent copper face masks having four protective layers with 99.9% microbial reduction.
Copper-infused materials have been shown in in-vitro testing to eliminate 99.99% of Bovine Coronavirus, H1N1 (Swine Flu), Murine Coronavirus, and Influenza. Gian Ferrente's copper mask is made up of 86% antimicrobial copper yarn. The first layer consisting of the copper layer is designed to prevent the spread of infection. The Copper ions infused in the outer layer of the mask have been proven in tests and studies across the world to destroy 99.9% of bacteria and viruses on contact. The second layer consists of water repellent propylene filtration material. The last two layers are made up of high quality, skin-friendly, natural 100% cotton for maximum comfort when wearing over long periods. 3D space between layers provide superior ventilation and improved moisture absorption.
Primary features of the Gian Ferrente's antimicrobial copper mask include a special customizable ear-toggle mechanism and a malleable metal nose plate for molding the face mask around the contours of the face to create a seal, and the copper ions infused on the outer layer of the mask have been known to have self-sterilizing effects, leaving the mask fresher for longer. This washable, chemical-free and eco-friendly mask is Amazon 1st copper face mask with a 40 x reusable capacity without losing key features.
Grab 15% discount on any Gian Ferrente Face Masks SALE13GF – paste this promotion code on Amazon during checkout for 15% off your Masks. Limited Time & Quantity Discount, Gian Ferrente has the rights to terminate the promotion at anytime.
About Gian Ferrente
Since 1982, we had been collaborating with Italian designer in producing leather bags, from pattern making to leather cutting, and from sewing to edging. Renowned for its exceptional craftsmanship technique, Gian Ferrente emphasizes on choosing the finest leather and material for our products. Inspired from Italian designs and culture, Gian Ferrente is designed for young working gentlemen who are looking for THE bag that can fit their gadgets, valuables and miscellaneous belongings
The post Gian Ferrente's Copper Infused Anti-virus Mask Prevents the Spread of Infection. first appeared on PRUnderground.
Press Contact
Name: Andy S.

Phone: + (66) 2 816-3182-5

Email: Contact Us

Website: https://www.gianferrente.com/
Original Press Release.