Ankle injuries are far from uncommon in the gym. The new CopperJoint Ankle Sleeve can help speed recovery, while also helping gym goers continue to be mobile.
(PRUnderground) May 14th, 2021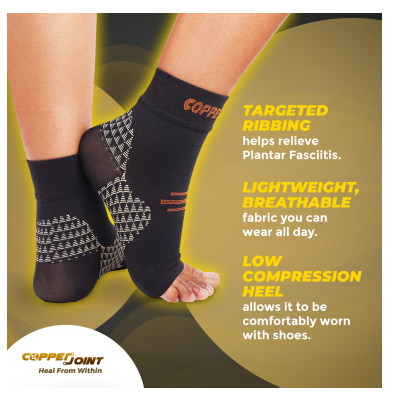 Staying active in the gym can be something that delivers a huge amount of health and lifestyle benefits. From keeping bodyweight within a healthy range, to building cardiovascular wellness, and greatly reducing stress, sticking to a workout routine is a smart and wise decision. Unfortunately, injuries do happen. One of the more common areas to end up hurt or sore is the ankle. The good news is one outstanding product has been being used successfully by gym enthusiasts to stay mobile, while speeding recovery, the CopperJoint Ankle Sleeve. CopperJoint recently expressed gratitude for all of the positive feedback the ankle sleeve has been receiving from gym and fitness lovers nationwide.
"It's always refreshing when we see a new niche of people develop who get value out of one of our products," remarked Stefano Starkel, Founder of CopperJoint. "This has been happening lately with our ankle sleeve. Staying healthy and fit is more important than ever. If our ankle sleeve can help someone get around a common injury while staying active, we couldn't be happier!"
The CopperJoint Ankle Sleeve is made of premium quality nylon infused with pure copper; it provides tight compression which serves to fight inflammation and reduce pain; it can be worn comfortably with sneakers and shoes; the ankle sleeve can also be washed and cleaned quite easily, making sure to keep it hygienic. The ankle sleeve is also breathable which makes it a good choice to wear year-round unlike lower quality product choices.
The remarkably positive feedback for the ankle sleeve continues to come in nearly each and everyday.
PJS, recently said in a five-star reviewed, "These arch supports are perfect for my problem with tendonitis. They are light and easy to get on but are tight enough for support. I wear them all day to work and they are very comfortable."
For more information be sure to visit https://www.amazon.com/ankle-sleeve/dp/B085RW3QQ1.
About CopperJoint
At CopperJoint, we provide drug-free, pain-relief solutions by creating premium copper-infused garments and supports. Our goal is to improve the quality of life for people suffering from joint and muscle pain due to accidents, arthritis, age, or injury. We are committed to use only the highest copper content and make copper compression therapy affordable for everyone.
The post Gym Enthusiasts are Loving Copper-Infused Ankle Sleeve From CopperJoint first appeared on PRUnderground.
Press Contact
Name: Stefano Starkel, Founder

Phone: 307-309-4055

Email: Contact Us

Website: https://www.copperjoint.com
Original Press Release.